Porsche 356 RSR Outlaw
Porsche 356 RSR Outlaw coming up for sale is an aggressive creation by Emory Motorsports in California. This car also has its performance tuned with the help of MOMO. Above all, this beautiful Porsche 356 RSR Outlaw is for sale. Please checkout RM Sotheby's website for the sale/auction information.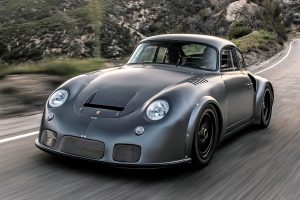 The Design
There is no doubt this car is one of the more aggressive, Mad Max styled, beautiful beast. The exterior is finished meticulously with all the required bells and whistles.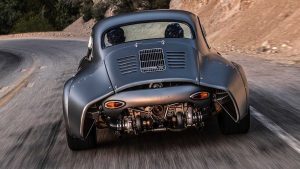 Interestingly, it has not lost its original Porsche beauty. Actually, this is very important for Porsche enthusiasts. Also, I believe that the originality is what has brought it to RM Sotheby's.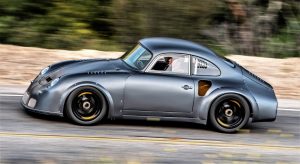 In every angle the car well preserves the flawless Porsche lines and at the same time have the contemporary touch in its design.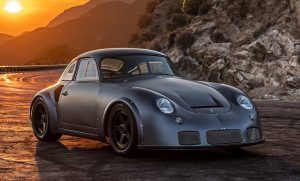 The entire exterior is going for some dark theme. Evidently, the wheels are finished with pitch black dark and the body panels in a dark grey color.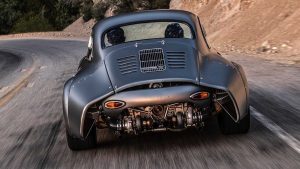 Of all the design features, the most interesting is the rear end. The rear design slightly deviates from the Porsche design, but for good. The rear resembles the facial cheek lines of Darth Vader. It is beautifully designed and presented really really well.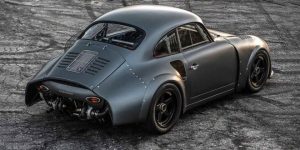 One very unique feature about this car is its attention to detail. Either it be exterior or interior, every bit has been designed carefully. The placement of tail lights on the Darth Vader rear is a very good example of how meticulously this car has been crafted.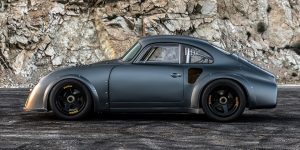 Porsche 356 RSR Outlaw: Interior Design
The interior is a completely different story when compared to the exterior. While the exterior is all dark and aggressive, the interior is flashy. Literally, the interior is way too flashy. The neon pink bucket seats with yellow back support is a debatable design. I believe, they should at least change the yellow to some matt black. What do you think about the color.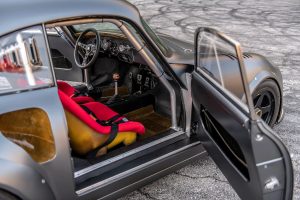 The steering, dash and the gear lever all sports the classic car look and feel. The interior is very minimalistic as it is a pure racing car. There is no door handle like the Ferrari F40. Instead, you get a string to pull the door close.
The Engine and Power Train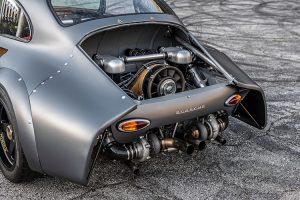 This Porsche 356 RSR Outlaw is a glorious combination of a '60s 356 T5 coupe and a 1990 Porsche 964 C2. The result is this aggressive 900kg monster. It looks like it has come straight out of Mad Max. It is packing 393 horsepower delivered from a twin-turbocharged 2.4-litre flat-4 engine.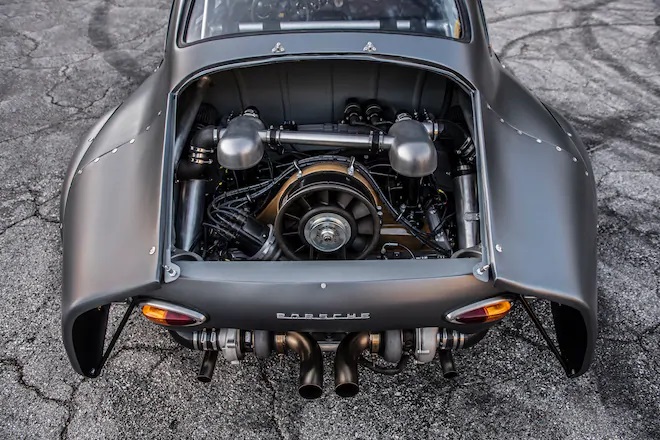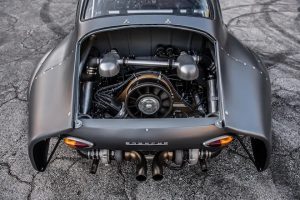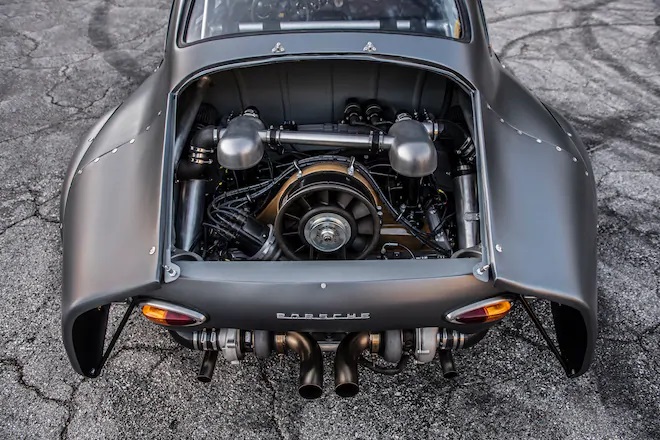 Porsche enthusiasts will absolutely love the raw power of their beloved car manufacturer. If you are lover of both contemporary and classic design and performance then you should definitely consider buying this car.
Porsche 356 RSR Outlaw for sale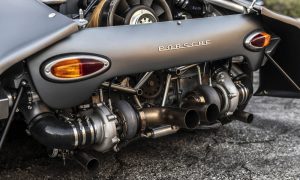 The car is about to go under the hammer by the famous auctioneer Sotheby's. Please checkout RM Sotheby's website for the sale/auction information. If everything goes per their schedule, this car will go for auction in August 14/15 2020.
Checkout a similar recreation of a Porsche 911 by Singer here.
Porsche 356 Price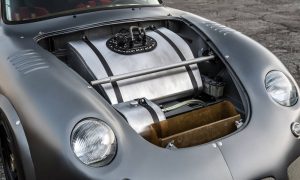 There is no price reserve information available in RM Sotheby's website. I am not sure if this car is going to fetch in millions. We have wait for the auction to see how much it sells. While I am very interested in this beautiful car, I am not very keen on buying this. What is your take on this car. Assuming money is not a problem, would you buy this car?
Checkout information about an absolutely rare GT40 for sale here