Please check Tom Hartley Jnr for the status of this Ferrari 250 Testa Rossa sale.
Ferrari 250 Testa Rossa: Introduction
The Ferrari 250 Testa Rossa, or 250 TR, is a racing car built between 1957 and 1961 by Ferrari. It has participated and won many 24 hours of Le Mans and World Sports Car Championship races. It was introduced at the end of the 1957 racing season in response to rule changes that enforced a maximum engine displacement of 3 liters in those races. This car shares many of its components with Ferrari's closes race car, the 500 TR and other 250 racing sportscar models. It has won the 24 Hours of Le Mans in 1958, 1960 and 1961. It has also won more than 10 World Sports Car Championship. Also, this car has won other races like the Targo Florio, Buenos Aires, Pescara, etc. These results led to World Sports Car Championship constructor's titles for Ferrari in 1958, 1960 and 1961.
The only original car for sale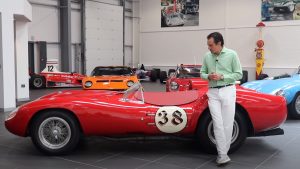 The Ferrari 250 Testa Rossa #0704 is one of the worlds most important cars with more than 60 years of Ferrari history. Apparently, it is also the second prototype of the model. Some of greatest drivers from US and UK have driven this very car. This specific car has won at least 19 races throughout its life. It was donated to The Henry Ford Museum in 1967 where it would reside for over 30 years. Remarkably, the car retains all of its original components including the chassis, body, engine and transmission.  Evidently, it also retains all the scars and wounds it has encountered in those races. It has never sustained any accidents of any real consequence. Tom Hartley Jnr first sold this car back in 2014 and he has sold it once again recently.
YouTube video of the car
Here is Tom Hartley Jnr's video describing the car. It is a very informative video. It is well presented and absolutely nails in displaying the preciousness of the car.
The Design
The Ferrari 250 Testa Rossa is one of the most beautiful we have ever seen. Obviously, It has a stunning look with all the needed curves. It has no straight edge except for the rear tail finish. The read wheel arch and the fenders are the largest I have seen in any production car.
It's chassis frame is made of tubular steel. Also, the suspensions are independent, unequal-length wishbones, coil springs, hydraulic shock absorbers. Here is a original photo of the car when there was no color cameras.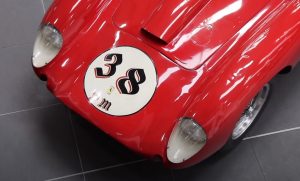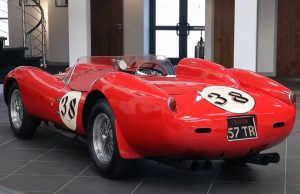 The steering wheels are big and it is necessary for the car's handling. Especially, for endurance racing the car demands high level of durability.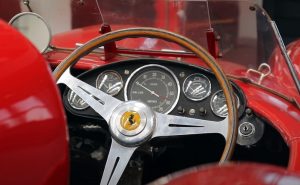 Checkout the ultra rare Ford GT40 for sale here.
Ferrari 250 Testa Rossa Engine
The specs of this beautiful engine is provided below. So, can you imagine that this V12 is more than 60 years old? How good of a feeling it would be to cruise in a car with such an amazing time tested engine?
ENGINE – V12

TOTAL DISPLACEMENT – 2953.21

cc

MAXIMUM POWER @ 7200 RPM – 221

kW

CLUTCH – Twin-plate
TRANSMISSION = 4 SPEED + Reverse
We have seen many beautiful gear levers with all the chrome, styling, what not. But look at the below original gear lever. Apparently, it has seen and endured many races. So, how wonderful it is to touch and feel it.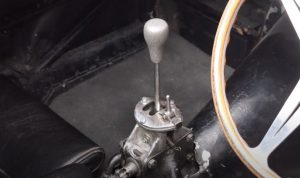 Checkout the latest classics up for sale in Silverstone Auction here.
Ferrari 250 Testa Rossa price
A 1957 250 Testa Rossa (unrestored) got sold for over $39 million. Making it the most expensive car ever sold in the United Kingdom. Just for perspective, $39 million is about 28 LaFerraris or roughly 128 F12 Berlinettas. It still represents a huge sum of money for a classic car.
External links
Checkout the details in Wikipedia.
Checkout the details in Ferrari website.