Porsche 911 reimagined: Singer's 100th car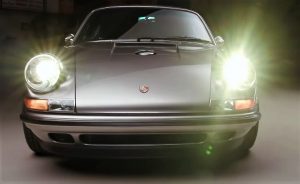 In this article, we are going to discuss about Singer's Porsche 911 reimagined. This is a very famous car. It is the 100th car out of Singer's stable. Also, the same car is reviewed by Jay Leno in JayLeno's Garage series. You will see the actual video link in the middle of the article. Also, this same car is reviewed by caradvice.com.au which has a very good review and fan praises.
Introduction to Singer Vehicle Design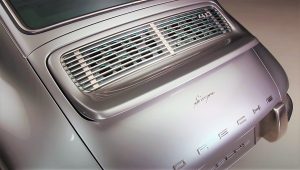 Single Vehicle Design is a US based car restoration company specialised in restoring 934 type air-cooled Porsche 911s. They started in 2008 and had their first restored car show cased in 2009. Very soon, they have rose up in popularity and now having more than 230 cars in their books. As per Singer, every car that comes out of their company has three elements in common – Restored, Reimagined, Reborn. You can checkout their website here. It is worth spending time going through their designs. They are absolutely stunning.
Porsche 911 reimagined: Exterior Design
Needless to say, the exterior is absolutely stunning. They have taken the retro Porsche 911 and added craftsmanship to it. Every fenders and side panels, including the roof are made of carbon fibre. The doors and the monocoque are steel. Rest of the exterior panels are carbon fibre. Doors can also be made in carbon fibre. But for safety reasons Singer has chosen Steel over Carbon fibre to reduce side impact.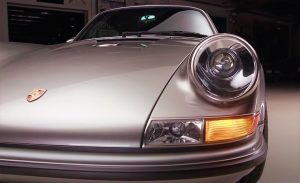 The headlights are beautiful with a retro look in the dome. The side indicators and the fog lights resembles Ferrari Daytona's. It is finished in a special color imitating another famous car manufacturer (name not revealed).
Porsche 911 Reimagined: The side mirrors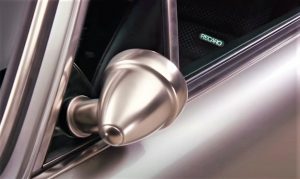 Every single bit of the car's exterior part is well crafted. One of the top noticeable ones are the side-mirrors. Look how cool it is. It is a blend of contemporary design with a very classic touch. Absolutely brilliant. To adjust the side mirror, there is a joy stick drilled through the glass with a cushion attached to it. Very nice touch.
The wing and integrated engine cover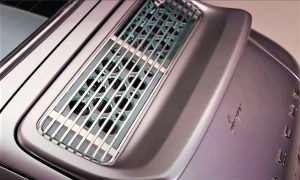 The next special thing about this car is the engine cover attached to the wing. It is so meticulously designed. With a transparent light green acrylic panel with etched air vents, it is one of the best looking engine cover I have ever seen. It also gives a sneak peak of the glorious engine inside.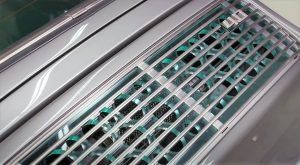 You can look at it for as long as you like. It reveals the massive air intake on top of the engine in a very artistic way.
Porsche 911 reimagined: Interior Design
If you are awe stuck with the exterior design, hold on to your seat. There is more. This time it is the interior design. The interior maintains the retro look with a special purple colour. Singer calls it "Blackberry" colour. It is absolutely stunning. There are no unnecessary bells and whistles in the interior. It has air conditioning. The steering wheel is inspired from the famous Porsche 917.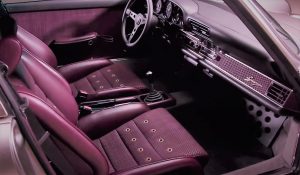 There is a beautiful imprint of "Singer Reimagined" on top of the glove box section. Apparently, the interior is very neat and minimalist.
The seats are also having enough comfort to make this car a Grand Tour version. Meaning, this can be used for a long drive, provided you have one handbag of luggage and nothing more.
Porsche 911 reimagined: The Engine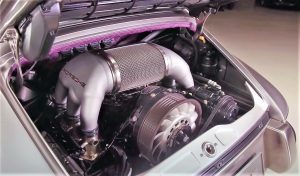 This beautiful car is powered by Porsche's beautiful engine. It produce 395 bhp and it can reach 0 to 100km/h in just 3.5 seconds. There is a fuel cap on the middle of the front bonet. It might seem like an odd location, but the owners will get used to it soon. The only time it will be a problem is while filling fuel. Who wants to run the gas hose over the beautiful carbon-fibre bonet.
Price
These are not cars directly for sale. These are restored Porsche 911s. Mostly Singer is modifying only Porsche 964s. These are owners giving their car along with a tonne of money to restore to Singer's specially crafted glory. Very rarely, these cars come to market for sale. These cars on an average is selling for around 650,000 USD and above. If you find one you are lucky. If you plan to buy one then you are already lucky. You can check the article about this car in Caradvice here.
Here is a link to one of the Singer Porsche for sale at the time of writing this article.
JayLeno's YouTube video on this car