2020 Mercedes AMG G63 Limo – Introduction
Mercedes AMG G63 limo is the most beautiful SUV to roam this planet earth in 2020. Let us start with some AMG G63 background. AMG G63 is one of the most sort after Luxury off-road SUV in the world. It combines the features of luxury, performance and off road capabilities all packed into a beautifully designed package. It looks aggressive, it drives with power and always has a mighty presence. This is one of the most sought after cars among celebrities and wealthy people. Apparently, this interest of wealthy people on this car has lead to many car modification companies to come up with spiced up version of this car.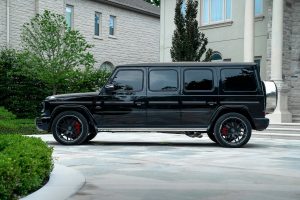 Canada based armoured-vehicle firm Inkas is one of them who have come up with a very admirable version of the 2020 AMG G63. They just released its latest creation: a stretched, bulletproof version of the 2020 Mercedes-AMG G63 SUV. Furthermore, the limo can defend against firearms and grenades. Additionally, It also includes an air-filtration system that keeps out pollutants and bacteria. Evidently, its interior is as lavish as it can get. Its luxury is on par with luxury you see in private jet planes. Not just any private jet planes, but some of the most luxurious private jet planes. Needless to say, this car is featuring massaging seats, a 4K TV, and lot more.
Exterior Design
We have seen lot of limousines. Not all limousines look pretty. Many of them have to sacrifice the design aesthetics in order to get the luxury and the stretch inside the vehicle. This is absolutely not the case with this AMG G63 Limousine. Apparently, the car looks absolutely brillinant in every angle. You don't normally recognize it as a limousine. The design team in Inkas has absolutely nailed the design.
The side view above doesn't look like any limousine at all. Please judge for yourself. You might have seen limousines of all kinds. Nothing like this. This doesn't look like some stretched SUV. In my opinion, the car cannot look any better.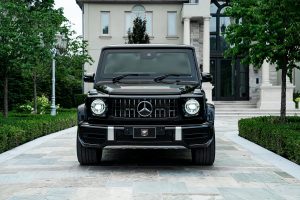 I always like the front view of Mercedes AMG G63. It looks mighty, mean and aggressive. This limo version is no exception. One of the reasons for looking mean is that this car has BR-7 level armouring. It can protect against armour-piercing rounds from high powered rifles. We are told that this vehicle can even withstand sniper rifles from short range. That is very inspiring.
This AMG G63 limo can even withstand two hand grenades detonated underneath it. Inkas has fitted these cars with thick ballistic glass.
Interior Design
The very car pictured in this article is optioned to have all the $1.2 million dollar worth of goodies. Interestingly, you will get only two seats. I repeat, there are only two passenger seats in this car. They are called Captain's chairs.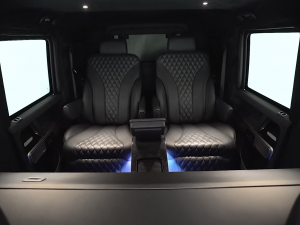 It might seem like insufficient for a limousine. But, don't underestimate what you get when are in one of these seats.
The seats are made with the plush leather  and alcantara finishes. These are climate controlled seats. The seats can be cooled or heated depending on the climate condition the rider wants to have.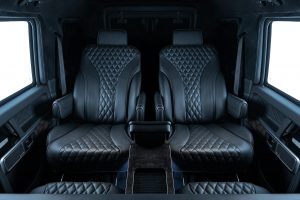 The controls for the climate control and also for all the seat adjustments are in a console right in the middle. This control system is used to control seats and climate. It also has Apple TV integrated right into it.
Both these seats face a massive 4k TV. With a push of the button, the entire 4k large screen TV will slide down giving a window between the front row and the rear passenger.
Obviously, the interior also features a bar with built-in cooler. The passengers also get comfortable foot rests. Likewise, these foot rests are also finished with the same leather trim as available in the seats.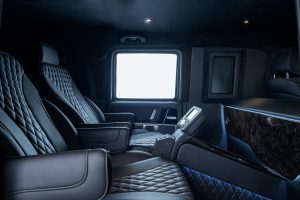 The seats can be fully retracted to transform as a flat bed. That is one of the reasons why only two passenger seats are offered.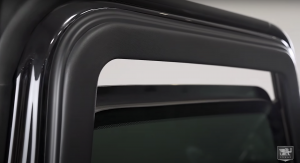 As seen in the picture above, these cars have bullet proof glass windows. There are multiple layers of protective glass shields.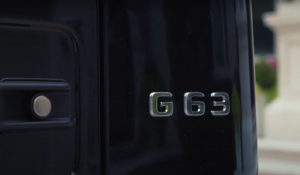 Inkas simply calls this car AMG G63 limo. There is a very good reason for it. Many car modifications company rename their upgraded cars like this Porsche 911 Singer reimagined. But Inkas wants to rely on the popularity of the G63 brand.
AMG G63 Limo – Engine
This limousine is powered by a 4 litre V8 AMG engine. The engine is twin turbo charged V8. It produces 577 horsepower 627 pound feet of torque.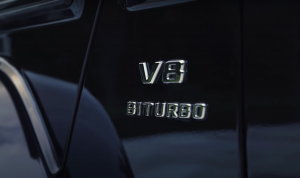 Mercedes AMG G63 limo – Driver Seat
No article about this car is discussing about the drivers seat. So I have decided to include in my article. For known reasons, there is no significant change to the driver seat in terms of the gauges and gear levers. Evidently, there is leather everywhere. Alcantara options are also available. Evidently, it is not the driver's choice. But because the car has been rebuilt with all the ballistic resistant armours, the drivers space is bit cramped. But the drivers will absolutely be proud because they are carrying their beloved master in this bullet proof car.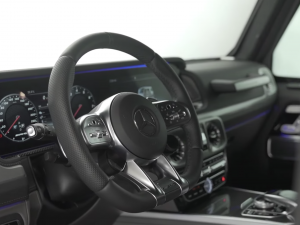 AMG G63 limo price
The limo has a base price of $US600,000 which is already more than 3 times the normal AMG G63 price. But this car has a plethora of options to choose from. Moreover, if you want to tick all the options boxes, the price will obviously go up. Literally, it can be upto double the base price. With all options included, this AMG G63 limo costs a whopping $US1.2 million.
Other Interior Design options
Inkas didn't provide many more interior design details. Customers have the ability to choose from various back seat configurations. In addition, there are other AMG G63 limos already available. Following are some of the pictures with similar limousines. The below images are not from armoured limousines. They are not for ultra luxury people. Needless to say, these are not for politicians and celebrate who care about bullet proofing.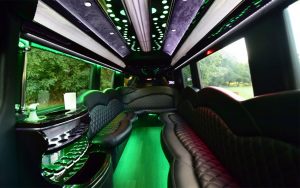 Above interior is a G63 with much longer wheel base and party focused. Evidently, this is pretty much like a party bus.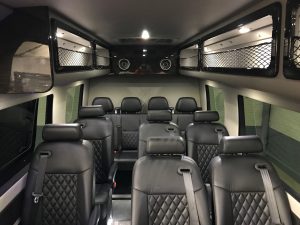 Below is another possible configuration with 10 passenger seats. Obviously, this does not include the two front driver row seats.