If you want to improve the performance of your Porsche 911, then you should read this article. This article is based on Porsche 911 GT3 RS. But these mods or its variations can be applied to any Porsche 911 models which almost has the same aerodynamics and qualities. This top 10 Porsche 911 performance upgrades are taken from Manthey-Racing YouTube video. I am an ardent fan of Manthey-Racing and their contribution to the success of Porsche 911s in race tracks. I hope you read and enjoy the article. This article is based on MR products. But depending on what is available in your country/location, you can go with any manufacturer. Apply these mods to your Porsche 911 and turn it into a beast in the track. Please do share your success story too.
1. MR Flaps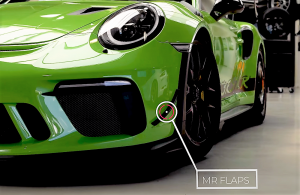 Manthey-Racing (MR) calls this flaps. These are small flaps that attaches to the front bumper of the car. It acts as a wing in the front side that creates slight downforce by lifting the air towards the front fender. This creates flow of air above the fender with a slight low pressure in the wheel area. This helps in creating required downforce to keep the nose pointed straight like an arrow. No wonder why you see these flaps in the recently announced cars like Mercedes AMG black edition.
2. MR Braided Brake Line SET
One of the main performance mods to any car is breaks upgrade. MR has braided brake lines that adds enough strength and rigidity to the breaking system. The better breaks you have, more confident you will be accelerating as well. That is why in almost all the performance car engineering, break engineering plays a major role.
3. MR Coilover Suspension kit
The MR Type Coil-over Kit comes with pillow-ball upper mounts in the front, and rubber upper mounts in the rear, combining the properties of both types of upper mounts. This setup is designed for drivers who look for the ultimate balance of comfort and superior performance, coupled with a smooth and forgiving overall ride quality.
4. MR Side skirts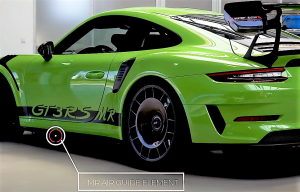 Many thinks that the side skirts on sportscars are for styling. Little did they know that they are added for aerodynamic purposes. They act as side spoilers allowing air to flow over them creating downforce. Like spoilers in the back creating downforce, these side skirts play a very important role in generating even downforce on the sides of the car.
Interesting read on Aston Martin's DB5 Goldfinger continuation.
5. MR Break Pad Sets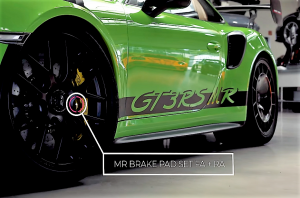 Needless to say, MR has upgraded break pads for their performance cars. These are high quality break pads that can withstand high temperatures. Evidently, during breaking from high speeds, there is a large amount of downforce (in tonnes) pushed to the wheels. The break pads not only have to stop the wheels, it also need to endure the heavy stress thrusted upon it. Also, the breaks shouldn't transfer the harsh difficulty to the driver who is applying the break.
6. Carbon Fiber Engine Deck lid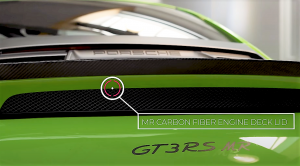 These Carbon Fiber deck lids help with two things. Firstly, Reducing weight of the deck lid. Secondly, it adds stiffness without adding weight. If there is one engineering gift that Science has provided to supercars is Carbon Fiber.
7. Carbon Fiber Mounting Bracket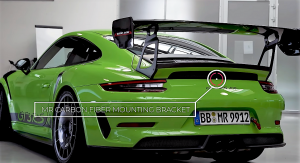 The carbon fiber laden mounting bracket is necessary in order to support the enormous downforce generated by the spoilers. If your Porsche (or any car) don't have a spoilers then this is not required. But MR prefers to have this engine deck lid in order to have the downforce supported by the car.
Please checkout the famous article on Maserati vs Ferrari
8. Carbon Fiber Engine lip extension Flap
Most of the performance cars already have a engine cover lip. It is a raised edge of the engine lid that acts as integrated spoiler. An extension to this adds additional downforce without adding more drag. If the downforce to drag ratio is more then these additional mods might create more drag causing performance issues. Also, MR has engineered these additional structure to the car that is subtle and at the same time helps improve performance.
9. Wing Support Brackets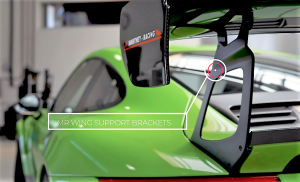 This is one of the critical elements of the entire Spoiler and the enhancements associated with it. Obviously, the support brackets have to be strong enough to support the spoiler and the thrust it is adding to the car. Evidently, a feeble spoiler bracket would damage the engine lid especially during high speed. So MR has come up with advanced wing support brackets.
10. Rear wing side plates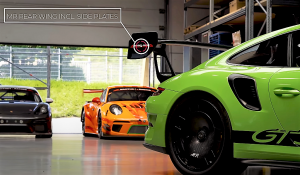 Checkout related article about Porsche 911 reimaged by Singer
Two Bonus mods from MR
Apart from the above top 10 modifications, MR also provides two optional mods as described below.
1. Magnesium wheel sets
2. Carbon Fiber aero discs
Manthey-Racing (MR)
MR is a performance tuning company headquartered in Meuspath. Its headquarters is right next to the iconic Nürburgring track. No wonder why, Porsche owns 51 percent of the shares in Manthey-Racing GmbH. MR is run by brothers Nicolas and Martin Raeder.  With over 190 employees, the well-established company is active in five lines of business. Since 2013, MR has run two Porsche 911 RSR as a works team in the World Endurance Championship (WEC). The company also offers the global deployment of Porsche customer racing cars. For ambitious Porsche drivers, MR distributes an extensive range of accessories, both for road-going cars and race cars. In August 2018, MR also opened a Porsche Service Centre at the company site in Meuspath.
Conclusion
The above 10 mods and the additional 2 bonus mods are easy to make. They don't require any tuning to the engine, transmission or the exhaust system. Obviously, these mods will definitely add lot of performance to your beloved Porsche 911. You can try similar mods for other sportscars as well.