Exterior Design
The Maserati Quattroporte Trofeo Unica pushes the boundaries is absolutely bonkers. It comes with a bizarre rainbow-effect paint that features decorative tridents.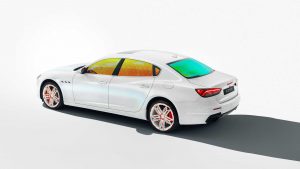 White rims combined with red trim and red brake calipers complete the exterior updates, while the cabin is decked out in white and turquoise leather.
The color of the windscreen is definitely going to turn heads no matter which side of the car you behold.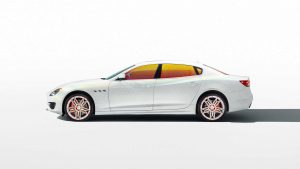 The full white finish of the exterior and the wheel rims really blends with the design. The Red calipers really stands out in between the white spokes of the wheels.
The car is really a treat to behold in all angles, including the top view like the above picture.
The Maserati trident symbol and design letters are all over the interior.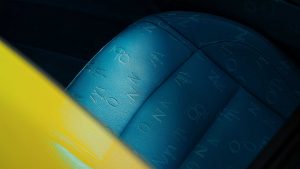 It looks as if the seats are embossed with those trident symbol and the Maserati symbol all over the car.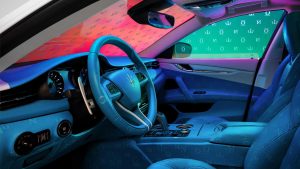 First time ever, we are seeing the same finish on the windows. This looks more like a laser light projection to me.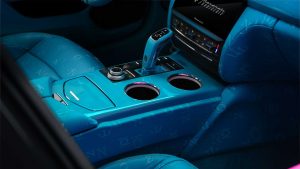 The center console is inherited from the original Maserati but completely customized.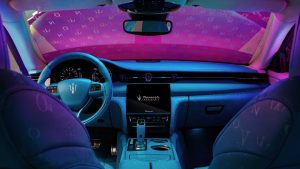 The dash looks absolutely brilliant.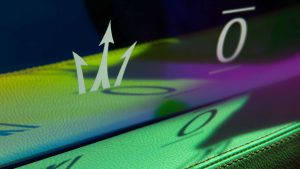 There is no words to say what these words and symbols are.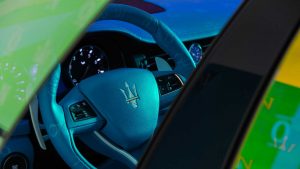 It is all about colors. You can see all the rainbow colors and more every time you walk around this car.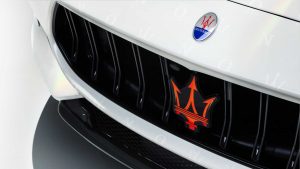 The Maserati trident in flaming red really stands out.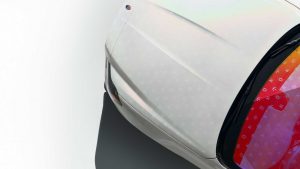 Its all colors everywhere.
The thin orange lines on the white wheel spokes are the only things that can belittle the rainbow colors seen on the windscreen.
The Break calipers almost match the bright florescent orange of the wheel spokes.
CLICK HERE TO READ ABOUT THE MASERATI GHIBLI TROFEO CORSE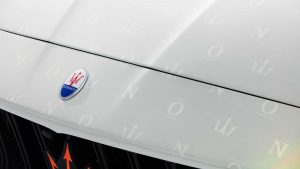 The one thing that seems to have forgotten is the original Maserati badge on top of the front bumper.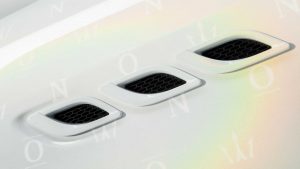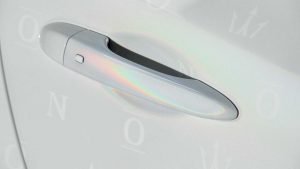 Maserati Quattroporte Trofeo Unica price is not known. But it is going to vary as per the personalization needs of the customers. Hope you enjoy this article.
CLICK HERE TO READ ABOUT THE ENTIRE MASERATI FUORISERIE PROGRAM