The Maserati Ghibli sedans will finally be blessed with a V8 power engine. These cars will be called Ghibli Trofeo. Italy's trident brand has confirmed the news overnight. And it won't be just any V8. But it is the same epic 441kW/730Nm twin-turbo 3.8-litre Ferrari-sourced V8. It is the same engine that powers its Levante Trofeo SUV. Additionally, the Ghibli will have twin supercharged turbos.
Maserati – Introduction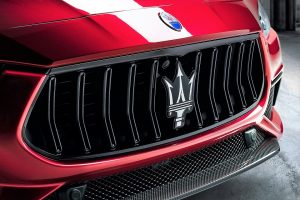 Maserati is an Italian luxury vehicle manufacturer. Established on 1 December 1914 in Bologna Italy. The company then moved its head quarters to Modena. The company's logo is a Trident. The company is currently owned by Fiat Chrysler Automobiles. Maserati was initially associated with Ferrari. Most of its car now is powered by Ferrari engines. But as per Maserati, that is going to change soon. Instead of using Ferrari engines, Maserati has plans to fight against Ferrari with its own competitive engine. 
Click here to read full article about Maserati's upcoming sports car that will challenge Ferrari.
Maserati Ghibli History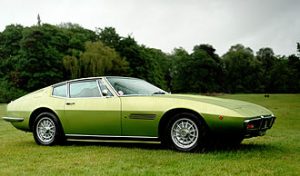 Maserati started its automobile build history with racing. After having success in racing, Maserati quitted racing in 1957 because of the Guidizillo tragedy. But they continued to build race cars for privateers. They eventually changed their focus on road going grand tourers (GT). They started with the lauch of 3700 GT in 1957. Maserati launched good number of successful GT cars for over ten years. The Ghia-designed Ghibli coupé was launched in 1967. It was powered by a 4.7-litre engine which is a dry-sump version of Maserati's quad cam V8. Later, the Ghibli pyder and high performance 4.9-litre Ghibli SS followed.
Modern Maserati Ghibli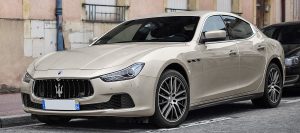 Over the course of time, Maserati Ghibli went through several upgrades. The first modern Maserati Ghibli was presented on 20 April 2013 in Shanghai. It was presented as a sports executive saloon. At that time, it was primarily focused to compete against the BMW 5 Series, Mercedes E-Class and Audi A6. The car, along with the new Quattroporte, is built in the Italian factory of Grugliasco. The base Ghibli is rated at 330 horsepower. The diesel version of the Ghibli was rated at 275 horsepower (also 250 in Italy only), and the Ghibli S Q4 at 410 horsepower. Since 2018, the base Ghibli power has been upgraded to 350 horsepower and the S Q4 to 450 horsepower.
All new Maserati Ghibli Trofeo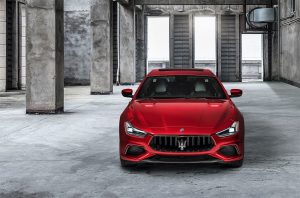 Yesterday, Maserati has launched its super powerful Ghibli version called the Trofeo. With aggressive styling and powerful engine, the Ghibli Trofeo is definitely a very powerful car.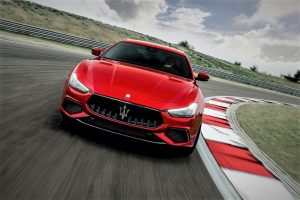 Maserati Ghibli Trofeo – Styling
The styling of the new Ghibli Trofeo looks very similar to the non-Trofeo version. But there are subtle differences. Evidently, though the differences are subtle, they are very aggressive.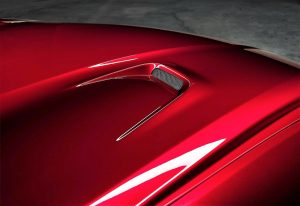 There is a front air intake in the front bonnet. It is not as aggressive as the Ferrari F8, but it looks really cool with the Maserati Ghibli. This is required to cool the massive Ferrari V8 engine.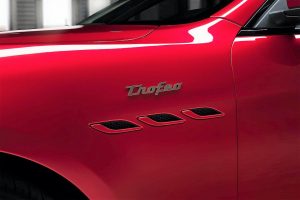 You can identify if the sedan is a Trofeo version or not from the side fins. Maserati has added a very big Trofeo badge on the side front fender just behind the wheel arches. It nicely blends above the three fin slits on the front fenders.
There is nothing fancy about the rear view. There are four exhaust pipes. The diffusers are subtle and not very aggressive like any four seater Ferrari sedans.
Maserati Ghibli Trofeo: Interior Design
The Ghibli Trofeo interior is almost similar to the non-Trofeo version. I really like its interior. It has all the bells and whisles you would expect from a Italian luxury car maker. The infotainment is really large. The touch screen is very responsive and it supports both apple car play and Android car softwares.
Maserati Ghibli Trofeo Price
Prices are not officially announced yet. Will update price once they are announced.
Maserati Ghibli Trofeo Engine
The Maserati Ghibli Trofeo will receive the awesome (and awesome-sounding) Ferrari-built twin-turbo 3.8L V8 engine. While this will be a first for the Ghibli, the Levante and Quattroporte have both benefited from Maserati V8's in the past. The performance figures are absolutely brilliant. Making 580 hp and 730 Nm of torque, the engine promises to deliver stunning performance. The numbers seems to be on par with some of the performance Mercedes AMG sedans and BMW M5 series cars. The sound of the engine alone will attract lot of petrol heads.
Conclusion
Competition is always good. I am very happy that Maserati is increasing its fight against its rivals. Maserati is one of the very trustable automobile brand. I am hoping that the Trofeo versions of Ghibli as well as the Quattroporte Trofeos will appeal lot more customers than their non-Trofeo versions currently are. This being luxury GT sedans, this will attract family oriented customers who also loves performance.