Brabham has just unveiled the Brabham BT62R. It is the road version of their successful BT62 track car. The car is beautiful and at the same time aggressive. The number are very impressive and it is like no other car. You can read the original article from Brabham's press release here. All the images and information in this article are reused from the same page. Special thanks to Brabham for the awesome news. I have been waiting for this for a very long time.
Brabham BT62R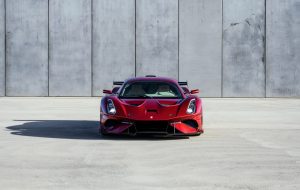 The Brabham BT62 is a mid-engine track day car produced by Anglo-Australian car manufacturer Brabham Automotive. It was introduced in 2018 and has been a successful track car. Only 70 cars were produced, in honour of the company's 70 year heritage in racing (as of 2018). After its success, Brabham has decided to built a road version of it. Just now, Brabham has unveiled its road version of the BT62. It is called the BT62R.
Brabham BT62R – Third variant of the BT62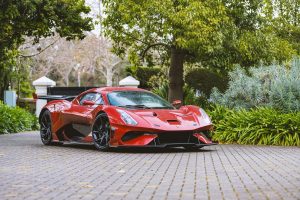 The BT62R will be the third variant of the BT62. It joins the Ultimate Track and Competition specification vehicles. The Ultimate Track and Competition variants are more track focused. Evidently this BT62R is aimed at collectors, gentleman racers and astute drivers alike. There will be limited production of this car. So it will have exclusivity, individuality and unrivalled performance.
All versions will be available in either left or right-hand drive. They are finished in either a Signature Series livery of the customer's own design, or a Celebration Series livery. The Celebration Series livery is to honour one of the 35 Formula 1 wins achieved by Brabham Formula 1 cars.
CEO Statement about the launch
Dan Marks, the CEO of Brabham Automotive: "Launching the BT62R is a great achievement for the team at Brabham Automotive. All the requisite design and engineering to turn the track BT62 into the road going BT62R has been done in-house by our team of engineers, which is a great testimony to their endeavor and expertise. This is a significant milestone for Brabham Automotive as we continue towards the launch of our next car, which will be a fully homologated road car. We will be making further announcements about this exciting next chapter in the coming months. For now, customers can get a taste of what it is like to drive a Brabham on the road with the BT62R."
Checkout our articles about Brabham competitor Ferrari here.
Brabham BT62R Features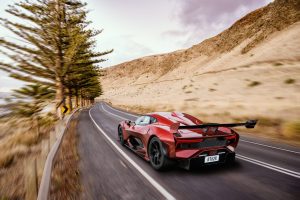 The BT62R features a number of important changes when compared to its track focused counterparts. The Brabham BT62R retains the BT62's pedigree as an incredible track car. Additionally, it has the ability to drive legally on public roads with vehicle registration available in selected markets. Please check the rules in your local country to make sure that you can drive it on the road. Never mind, if you are collector and don't bother driving it.
Notable features of Brabham BT62R
• Variable ride heights for driving on track and on public roads.
• New exhaust system for reduced cabin noise and compliant road noise.
• Air conditioning and heated windscreen
• Optional speaker system
• New front splitter and rear diffuser to accommodate road use and maintain track aero.
• New road seat design.
• Goodyear Eagle F1 SuperSport road tires using a motorsport-derived, high-friction compound offering exceptional lateral grip and traction.
Notable features of the Celebration Series Brabham BT62R
• 18 carat gold logos and badges.
• Bespoke carbon interior, unique to each vehicle.
• An exclusive Track Pack, including the track rear wing, splitter and diffuser for fitting when required for track events.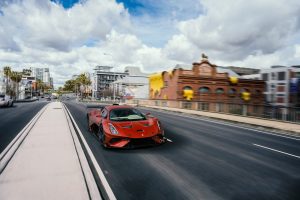 Brabham BT62R – Engine and Power Train
The Brabham BT62R features the highest-output, naturally aspirated V8 on the market. This Engineering marvel produces 522kW (700hp) of power and 667 Nm of torque. It is promising a animal driving experience like no other. The engine is the same 5.4 liter, Brabham V8 engine as the Ultimate Track and Competition variants. Apparently, It has a revised engine mapping for use on the road.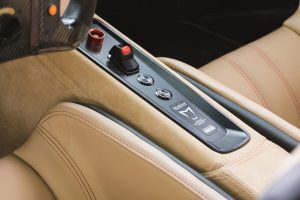 The BT62R's has a revised exhaust system. It has been upgraded to quiet the system for road use. At the same time, it produces minimal back-pressure to maintain instant power and response.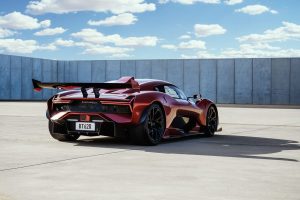 The transmission is a 6-speed sequential transmission with revised gear ratios. It is slightly different than the Brabham BT62, and is more suitable for road use. Steering wheel paddle operation is standard like many sports cars. The transmission provides instant, clutch-free changes on track. The car also with a traditional clutch for smooth operation on public roads.
Brabham BT62R – Road conversion
Special emphasis is placed on everyday drivability in this car. Access to the revised interior is via remote-operated door locking with the new Brabham key. The key is available in the driver's choice of liveries to match the vehicle exterior. The seats are luxuriously finished in either leather and/or Alcantara. Drivers can choose between them with customized stitching. The seats are made of carbon fiber matching the car's light-weight design vision.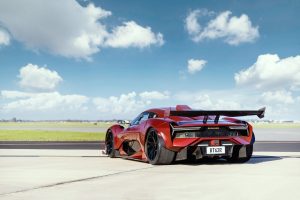 The interior is fitted with heat and sound insulation. This Brabham BT62R also has an Alcantara-trimmed roof, complete with bespoke internal storage compartments. A new Air conditioning system is fitted to manage interior temperatures for all weather driving. The dashboard features a new digital control panel. It comes with an option to revert to the track oriented display when on circuit. The digital dashboard includes an optional rear-facing camera.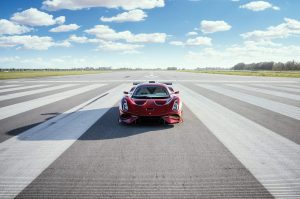 The BT62R is fitted with all required lighting, side mirrors and other utility features required to drive on the road.
World's best vehicle dynamics
The Brabham BT62 is well known for its amazing vehicle dynamics. Obviously,  the BT62R is no exception. With a chassis/suspension/aero setup that is tuned for the road and also on the track.
The Brabham BT62R shares the same chassis as its track-oriented BT62. It has a revised suspension system tuned for road use. The chassis is clothed in a carbon fiber body designed for efficient aerodynamics and astonishing looks. The body features a revised front splitter, new top-mounted air intake. The car also features a new rear diffuser and a re-designed, road compliant rear wing.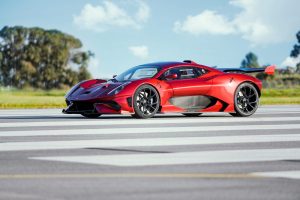 The BT62R maintains a superior downforce-to-weight ratio over comparable road vehicles. Apparently, the car is extremely light weight. The result is a car that maintains the incredible dynamics of a race car – acceleration, deceleration and lateral variation. Also, combines them is the manners and comfort of a proper road car.
Checkout some of our best articles about Technology and supercars here.
The road tyres chosen – Goodyear's new Eagle F1 SuperSport – offer world's best levels of grip and stability. Aerodynamic changes made to the car complement the tyre's grip envelope perfectly and carbon ceramic brakes offer the ultimate in road-friendly stopping power.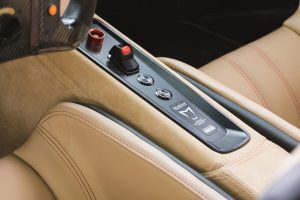 The Brabham BT62R also comes with an inbuilt vehicle lift kit. It allows for easy clearance on public roads and steep driveways. The car can be set at four different height levels (70mm, 90mm, 110mm or 130mm) at the press of a button via the new digital control panel.
Brabham BT62R – Signature Series Version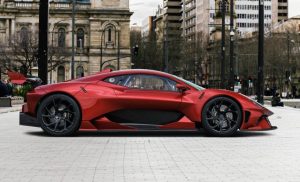 Signature Series owners can choose a livery in conjunction with Brabham's own design team to bring their car to life. They can also choose their own livery according to their taste.
You can check out other new car reviews and opinions here.
Brabham BT62R – Celebration Series Version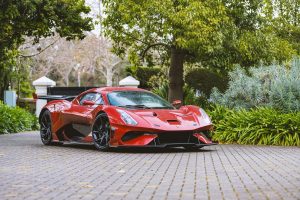 Celebration Series owners choose from one of remaining 35 racing liveries celebrating the Brabham team's 35 wins in Formula 1. The livery chosen is exclusive to that owner and will never be reproduced. Celebration Series owners also receive additional luxury treatments. This includes gold badging, and a special Brabham 'Track Pack'. The Track Pack includes the rear wing, front splitter and rear diffuser from the track variants. Apparently, this provides the road compliant BT62R with the same aerodynamic properties as the track variant when on track.
Brabham BT62R price and availability
Price information will be available here soon. The first BT62R will be delivered in the coming weeks. Evidently, multiple orders already received and in production for customers across the globe.
If you like this article, please subscribe to our YouTube channel. You can also follow our Facebook channel Aspiring Super Owners.
Thanks for reading.