This article is originally from supercars.net.
Top 50 car engines ever developed. I'm going to steal a line from an early-2000s TV commercial starring Jacques Villeneuve on behalf on Honda, and then use it as a segue into articulating the whole purpose of this list. "In every Honda car, there's a Honda engine" he would ultimately exclaim at the end – the brand's powerful marketing slogan which arguably has less backing these days, but has withstood the test of time nevertheless.
Similar self-proclamations could easily be adapted for use on any one of the world's most iconic automobiles, of which there are many, yet at the same time, so few. Whether they be small, but vivacious 4-cylinder engines in compact roadsters, versatile 6-cylinder engines which have no meaningful shortcomings despite their apparent size handicap, V8 engines which never fail to deliver a classic form of tenacity and physicality, or epic V10 and V12 engines oozing with verve, muscle and dexterity…
…there can be no doubt that each and everyone one of our favorite sports cars are a product of the power plants that breathe life, identity and purpose into them.
Here's our shortlist for the "50 Best Engines of All Time", curated (and categorized by # of cylinders) for your reading pleasure:
"The crème de la crème of unadulterated performance" – Best V12 Engines Ever Produced
As far as internal combustion engines go, V12 engines are at the zenith. This is while still acknowledging the omnipotent W16 motors seen in today's Bugatti hypercars, while not forgetting the likes of mainstream automakers – such as BMW and Mercedes-Benz – also having flirted with the idea of series-production V16 engines in the past. With the 16-cylinder power plants essentially synonymous with the French automaker, the V12 is the de facto ruler for the broader spectrum of ultra-high-performance automobiles.
The diversity of this list fully demonstrates the universal appeal that V12s have around the world, to both producers and consumers alike. This unanimous and long-spanning support for the technology has helped to spawn some of the most impressive engines ever produced. The usual suspects are at play here, with Ferrari and Lamborghini making their totally not unexpected appearances. The British – via Aston Martin, Jaguar, and GMA – have shared their own highly impressive interpretations as well, while more conventional brands such as BMW, Mercedes-Benz, and even Toyota have had their say.
For the most part, these engines are naturally aspirated and characteristically rev all the way to the moon. In totality, each and every one of them is nothing short of a legend.
Ferrari Colombo V12
Originally designed by Gioacchino Colombo, this engine can trace its roots back to the very first Ferrari-branded model designed by Ferrari Enzo – the 1947 Ferrari 125 S – where it debuted as a 1.5L V12. The core design of the engine would persevere for more than 4 decades; along the way growing in size, having various levels of forced induction, and becoming a dual-overhead-cam configuration with EFI. Many credit the motor's longevity to its reputation for being bulletproof.
Successful in both road-going and race track derivatives, the list of Ferrari cars this engine has graced has no shortage of automotive icons; the Ferrari 250 Testa Rossa, Ferrari 250 GTO, and Ferrari 365 GTB/4, just to name a few. Top 50 car engines ever developed.
BMW S70/2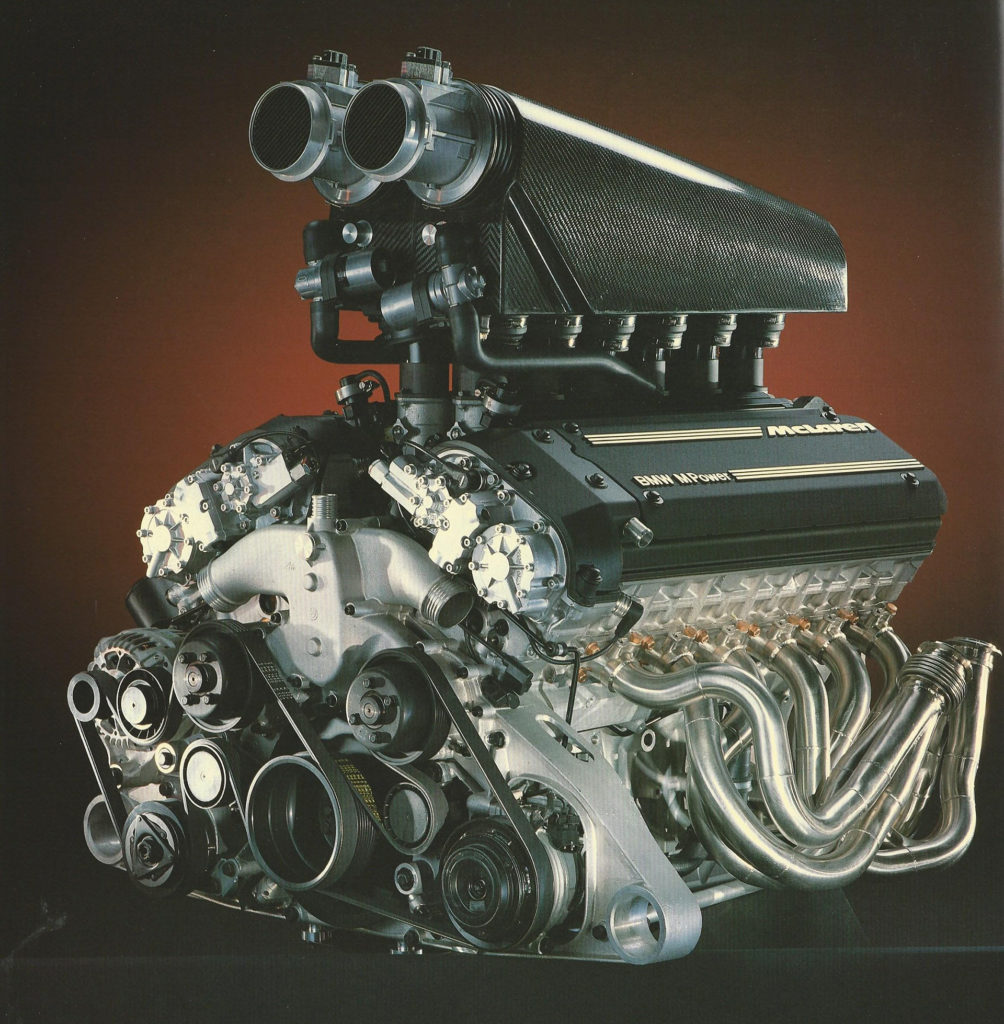 Despite being produced by BMW, the S70/2 didn't feature in one of the Bavarian automaker's own production cars. Nevertheless, it did end up powering none other than arguably the most iconic supercars ever made – the 1992-1998 McLaren F1. The 6.1L naturally-aspirated unit produced 627 hp and was capable of 0-60 mph in just 3.2 seconds, and had a top speed of 240 mph. It wouldn't be until the next millennium before those figures could be surpassed.
Interestingly enough, BMW wasn't Gordon Murray's first choice to supply the engine for his groundbreaking supercar, with collaborations with the likes of Honda and Isuzu falling apart before they would opt for the Munich-built power plant. Whatever might've happened if things turned out differently, who's to know? But what we do know is that BMW got things absolutely spot-on with the S70/2, which continues to be regarded as one of the true and timeless masterpieces in automotive history.
Jaguar V12
Jaguar's first foray into the world of V12 engines began in motorsport as early as 1951, with its 1964 XJ13 Le Mans race car eventually serving as the trickle-down technology source for its production cars. For the latter, this would begin with a 5.3L naturally-aspirated unit in the 1971 Jaguar E-Type and would even go on to be used by other automakers such as Daimler and Panther. An HE (or "high-efficiency") version of this engine would be released in 1981 – featuring on the XJ12, XJ-S, and Daimler Double-Six – which improved fuel economy by almost 50% compared to its predecessor, without affecting performance.
In its final iteration, the V12 would evolve into a 6.0L HE unit which produced as much as 333 hp and 365 lb-ft of torque. It was likely to be some variation of this engine which was initially being marketed for use on the Jaguar XJ220, before the British automaker controversially decided on a 3.5L twin-turbocharged V6 engine instead. The last Jaguar V12 engined was produced on April 17, 1997.
Lamborghini V12 L539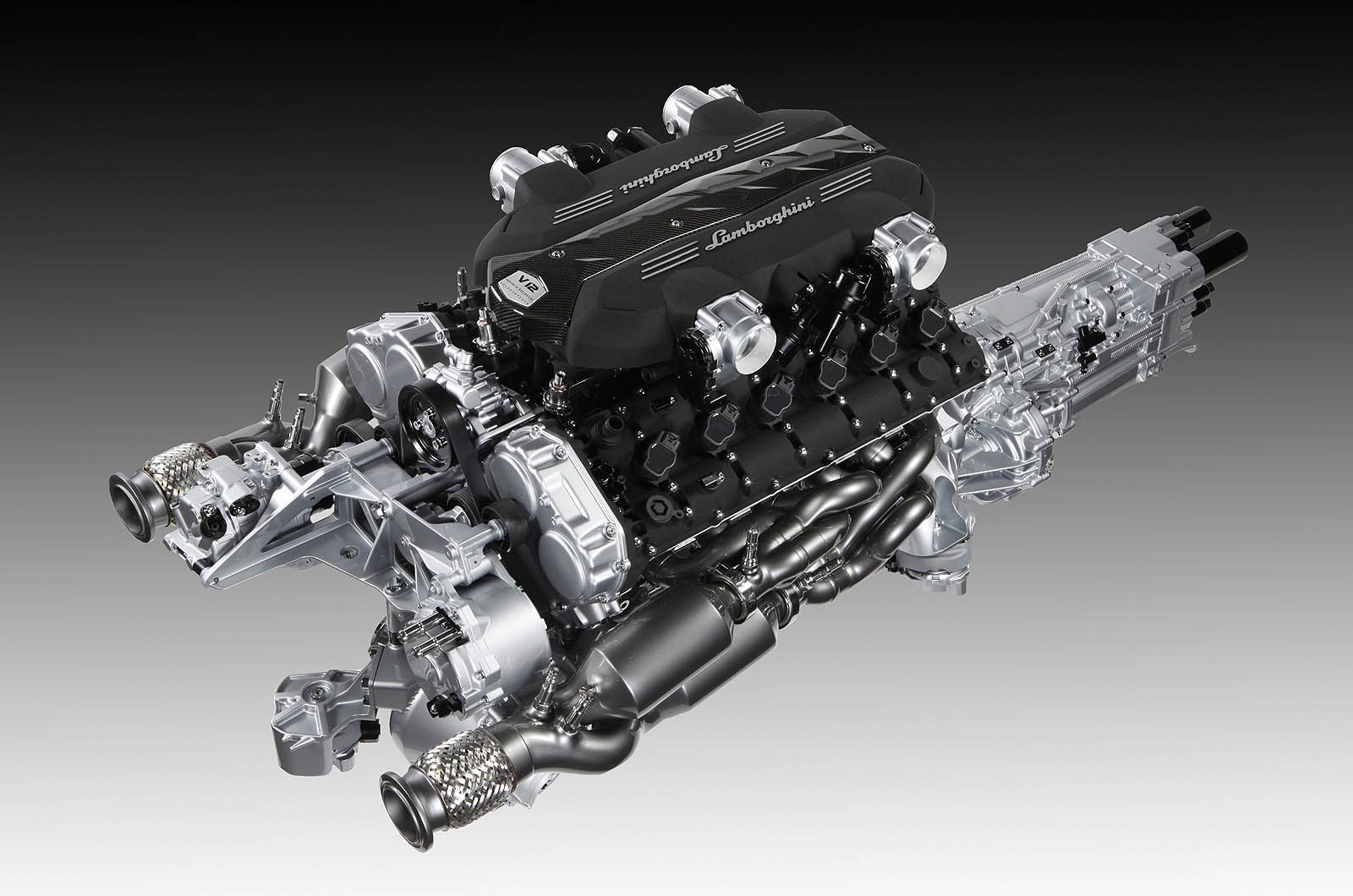 Like Ferrari, Lamborghini also has a long and storied history with V12 engines, having created its very own first version of this power plant for its mid-'60s era Lamborghini 350GT production car. Starting off as a considerably brawny 270 hp 3.5L naturally-aspirated unit, the "Bizzarrini" engine would evolve into a 661 hp 6.5L naturally-aspirated unit and be fashioned by models as recent as the 2010 Lamborghini Murciélago LP-670 SV. Top 50 car engines ever developed.
As long as the Bizzarrini engine persisted, we feel that the most significant statement of Lamborghini's V12 mastery comes in the form of its latest iteration of the engine, dubbed 'L539'. This power plant would share its debut with the 2011 Lamborghini Aventador, of which it initially powered with 690 hp via a 6.5L naturally-aspirated configuration. With a fresh design, the new engine was over 18 kg lighter than its predecessor and was programmed with a new firing order.  The all-wheel-drive supercar would see significant improvements during its lifecycle, with the latest iteration of the L539 car producing 770 hp in the limited-edition 2021 Lamborghini Aventador Ultimae.
Ferrari F140
If the F140 had only powered the (2002-2005) Ferrari Enzo – the first Prancing Horse model where it featured – it would have been no less significant or legendary than it is today. The 65-degree V12 engine debuted on the Enzo as a 6.0L naturally-aspirated V12 unit which produced a staggering 651 hp @ 7,800 rpm and 458 lb-ft of torque @ 5,500 rpm. Over the years, 6.3L versions of the F140 have powered the likes of the hybrid LaFerrari and the F12berlinetta.
It has since evolved to its current peak as a 6.5L power plant – dubbed the F140 GA – which produces 789 hp @ 8,500 rpm and 530 lb-ft of torque @ 7,000 rpm in the 812 Superfast; this makes it the most powerful naturally-aspirated production car engine ever produced to this day. It is likely that this could be one of the final generations of Ferrari V12 engines – whether it be naturally aspirated, turbocharged, or even hybridized – so appreciate it while it's still around!
Mercedes-Benz M120 / M297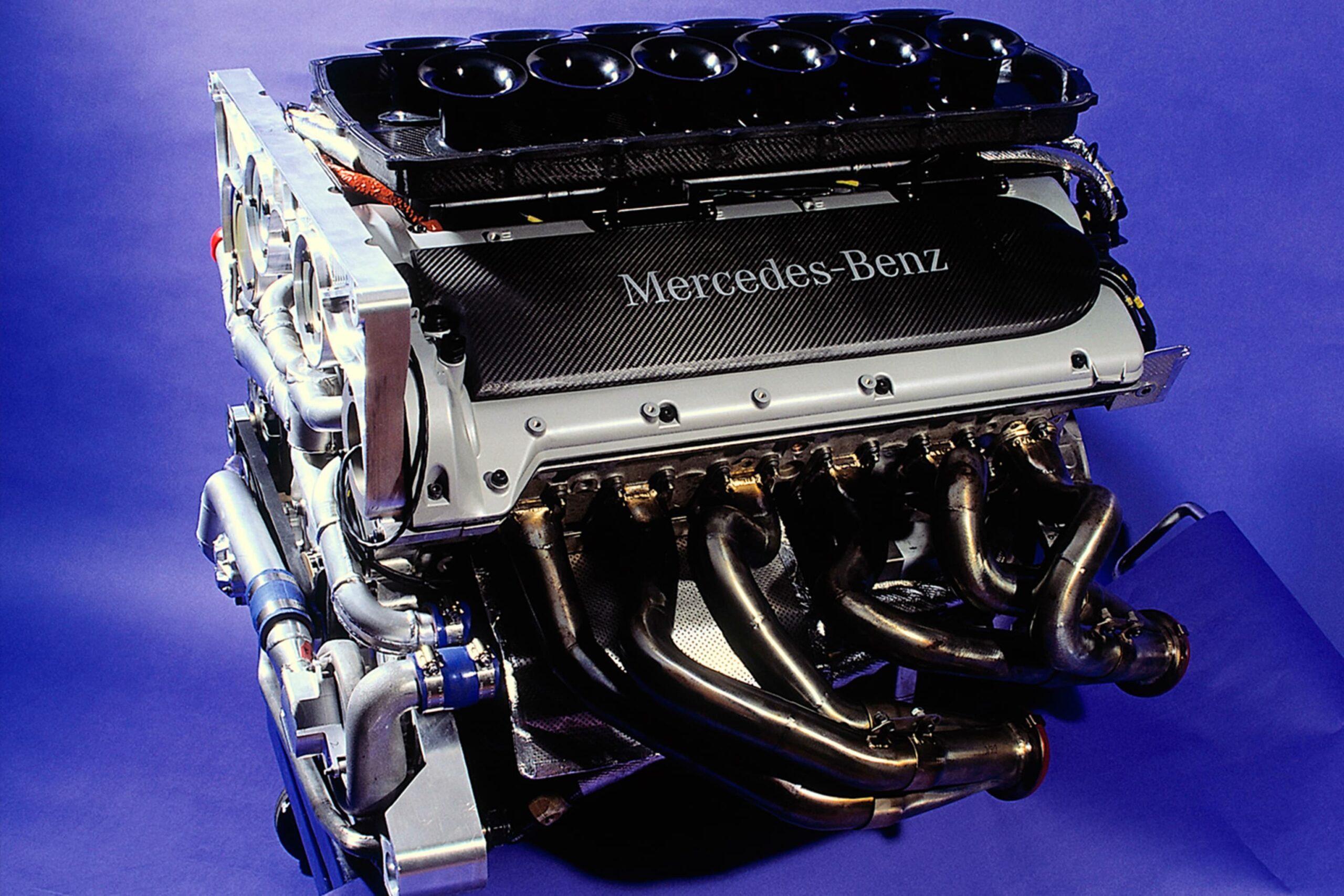 When Mercedes-Benz caught wind of archrival BMW's side-hustle with Gordon Murray, let's just say that there was no resting on any laurels going on at their Stuttgart headquarters. With a clever riposte, Mercedes would debut their first-ever V12 engine through the 1993 600 SEC (later to be renamed the S600 Coupé, and frequently referred to as the S-Class). The 6.0L naturally-aspirated power plant was good for 389 hp, 420 lb-ft of torque, and a top speed of 155 mph in its initial configuration.
Not only did Mercedes-Benz one-up BMW by using the engine for their own cars, but they also borrowed a page from their opponent's playbook and had their M120 engine fashioned for use in the magnificent Pagani Zonda supercar as well. Hand-built and tuned by AMG, the M120 also featured on the Mercedes-Benz CLK GTR race car and also saw its displacement increased to 7.3L for use on the SL73 AMG and CL73 AMG – and at which point it was commonly referred to as the M297.  The most powerful iteration of the M120 features in the Pagani Zonda Revolución, with the non-street-legal car good for 789 hp and 538 lb-ft of torque.
Aston Martin NA V12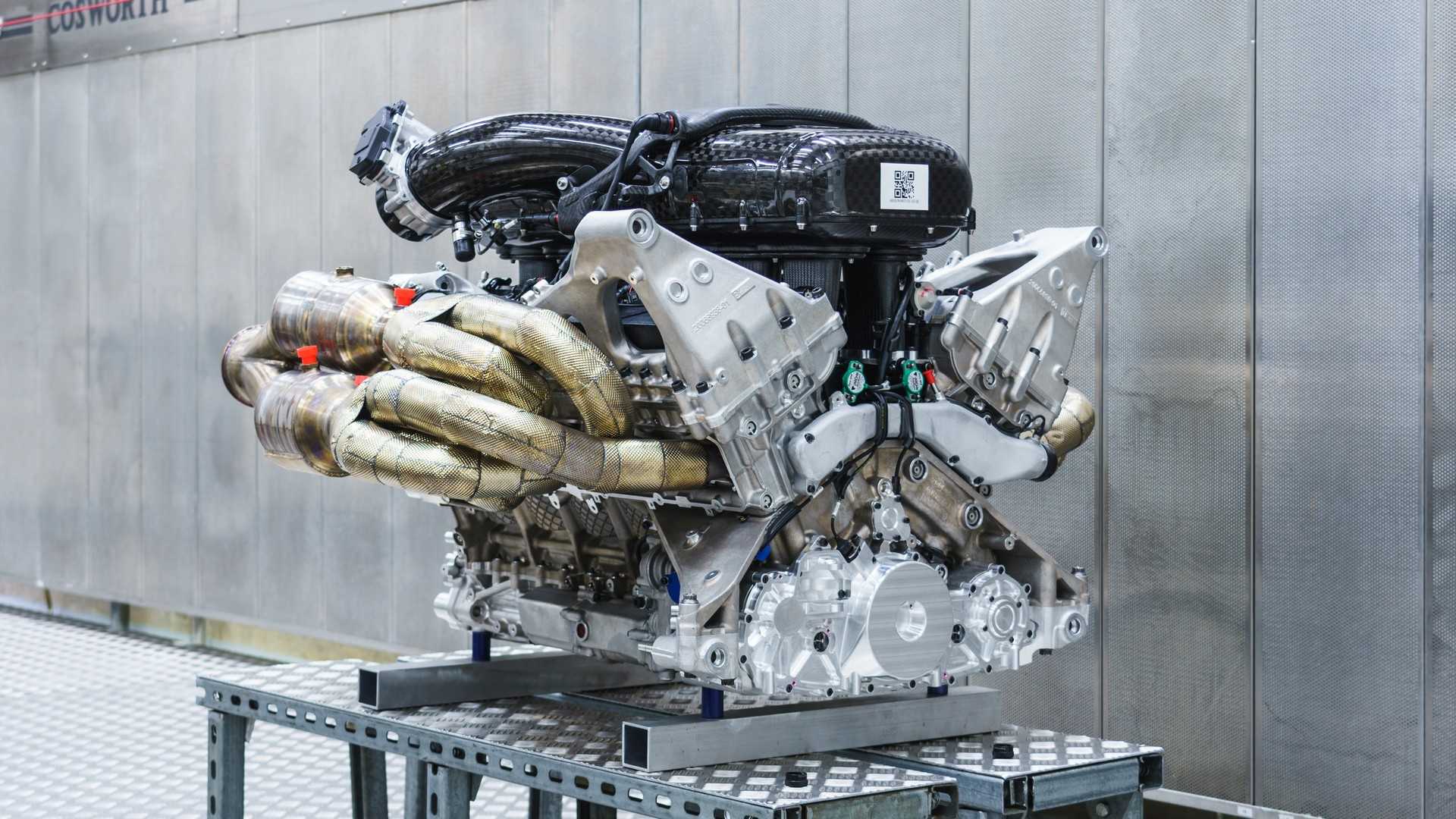 With one of the best sounding V12s (and automobile engines, period), the story of how the Aston Martin (naturally-aspirated) V12 came to be is rather more peculiar and convoluted. The project had less, should we say, glamorous beginnings, when things basically started off with the development of a 2.5L naturally-aspirated V6 engine. This particular unit was essentially the brainchild of Suzuki and Mazda, with the latter's then-majority owner, Ford, then taking the blueprint to Cosworth, who would go on to build the Duratec V6.
Needless to say, the story didn't end there, and Aston Martin would end up bolting two of those engines together to create the 5.9L naturally-aspirated V12 it would stamp its name on (and market as a 6.0L). Having more in common with a Ford Taurus than owners or enthusiasts would like to admit, the motor produced 414 hp and 398 lb-ft of torque in the 1999 DB7 V12 Vantage. Aston Martin continues to employ a V12 engine to this day, with the 2017 DB11 having fashioned a 5.2L twin-turbocharged version. More recently, the company has referred back to the naturally-aspirated configuration, with a 6.5L unit designed to power its Valkyrie hypercar with over 1,000 hp @ 10,500 rpm (plus an additional 160 hp with its hybrid-electric system). Top 50 car engines ever developed.
To call Toyota's 1GZ-FE the "Godfather" of Japanese automobile engines would be neither an understatement nor unbefitting. After all, the venerable V12 from the land of the Rising Sun – which exclusively powers the Toyota Century luxury sedan – is both one-of-a-kind and has a penchant for attracting a particular type of "underworldly" owner in its homeland. It's the only production V12 engine to come from Japan and still manages to invoke all of the essential philosophies of Japanese craftsmanship – such as reliability, build quality, and refinement.
That being said, it's certainly not the most powerful engine on this list and remained at around the 300 hp mark during its lengthy production run from 1997-2016. Nevertheless, it remains one of the most unique engines on this list and is no less iconic than its near-1000 hp contemporaries. This engine is prime for swapping into other platforms, with automotive personality Smokey Nagata fitting a twin-turbocharged version to his 'Top Secret' Toyota Supra. Thanks in large part to its distinctive engine, the Century remains a status symbol in Japan; in the way a Rolls-Royce Phantom does the same just about everywhere else.
GMA Cosworth V12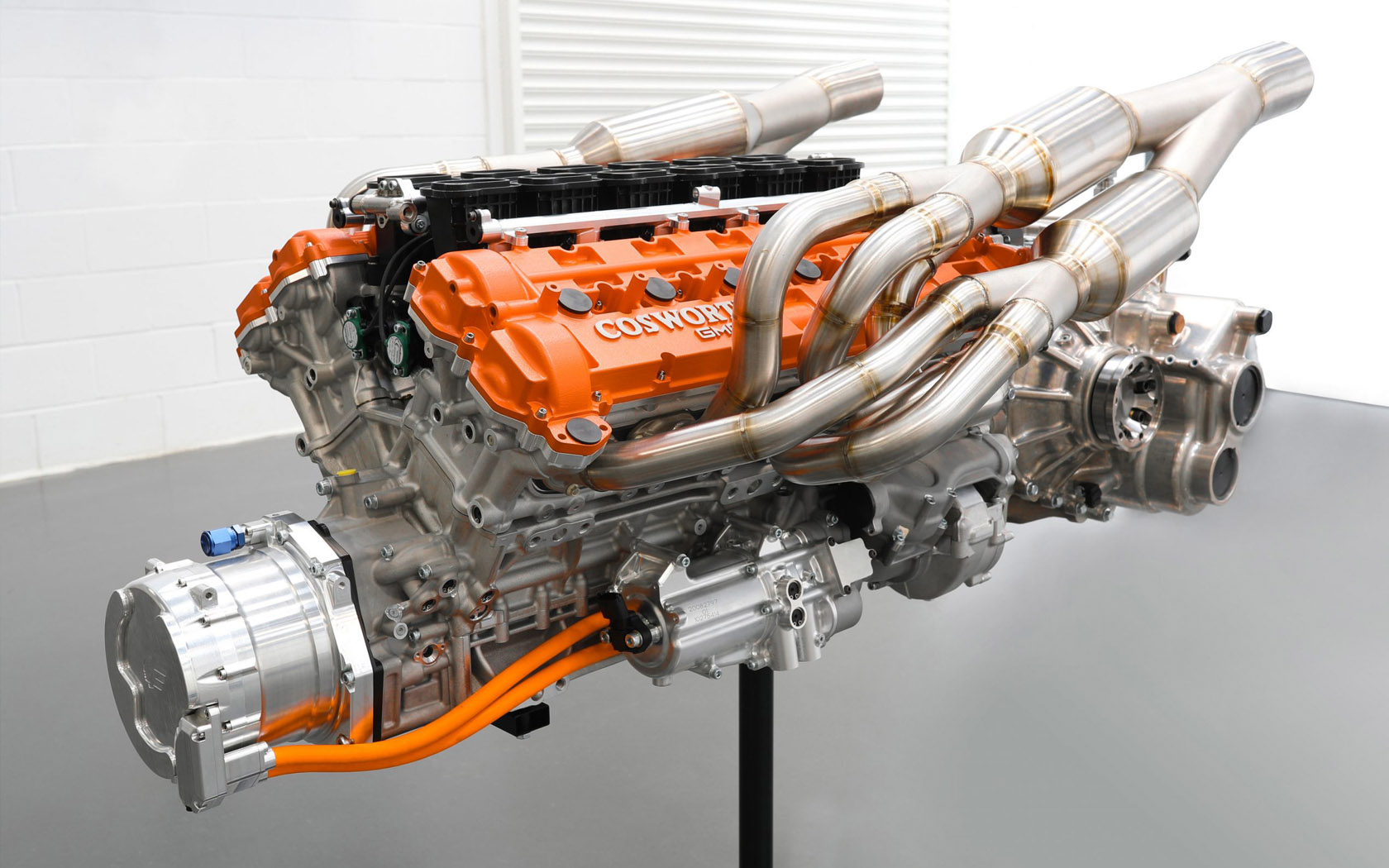 It's impossible to speak about the naturally-aspirated engine in the GMA T.50, without getting into how it's involved in so much more than just spinning the new supercar's rear wheels, or about how other design elements of the car are built around it. As impressive as a 12,100 rpm redline sounds, its 654 hp and 345 lb-ft of torque doesn't sound extraordinary by today's standards. But rest assured this engine, and this car, are on the cusp of a truly "redefining" moment in automotive history. Crucially weighing at just 178 kg, the engine plays a huge factor towards the T.50's overall curb weight of just 980 kg – about one-third that of a contemporary supercar or hypercar. Top 50 car engines ever developed.
The GMA T.50 is the culmination of decades of Gordon Murray's aerodynamic and mechanical engineering experience. Part of what makes the T.50 so exciting, is that it incorporates the design and function of the infamous Brabham BT46 "Fan Car." A gigantic fan –  powered by the camshaft of the engine and coupled with the curved underbody of the BT46 – created an active venturi effect that quite literally vacuumed the car onto the road, and allowed it to corner at barely believable speeds and levels of grip. The T.50 will feature something similar, and likely more advanced. On a road car. We can't wait to see this in the flesh.
Bugatti 3.5L Quad-Turbocharged V12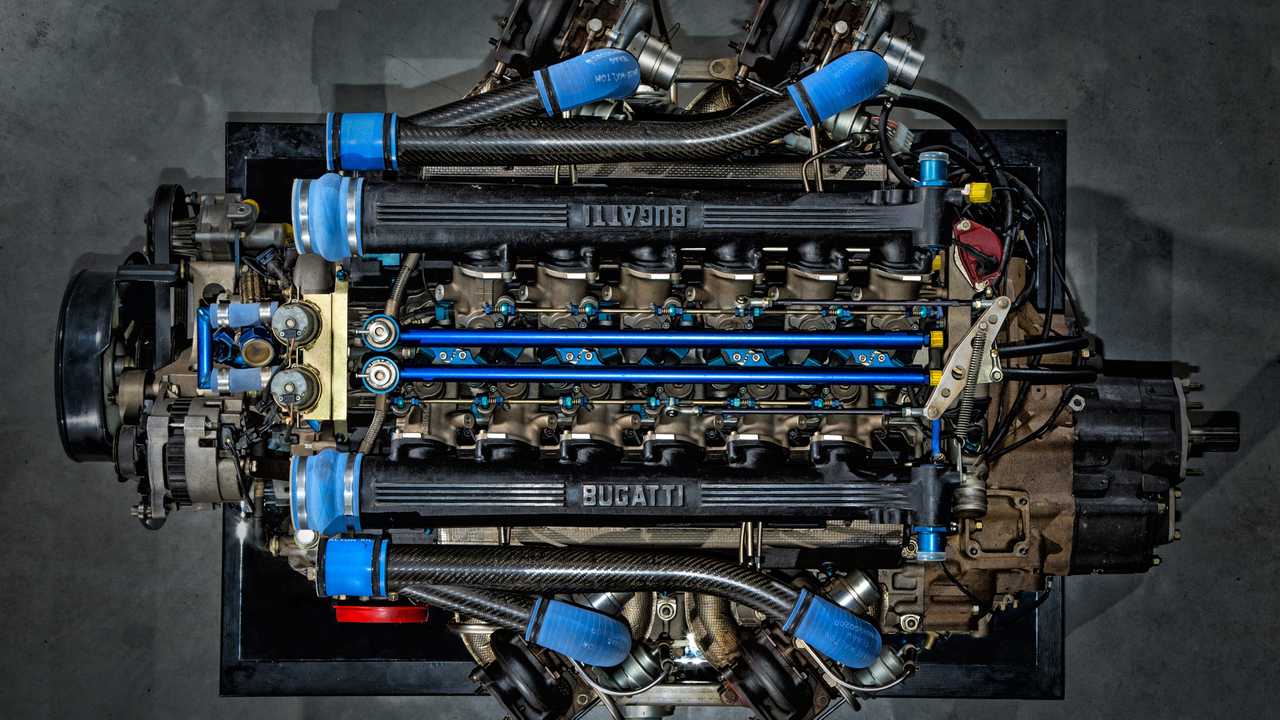 This Bugatti engine has had a very decorated career, albeit a short one, which makes it all the more impressive. Featured exclusively on the (1991-1995) Bugatti EB110, this 3.5L quad-turbocharged V12 is responsible for some very notable distinctions. First, it is widely regarded as being one of the catalysts in the revival of the French marque even though it failed to be directly responsible for this. It became the world's fastest production car of its time, beating the Jaguar XJ220 in the process.
Suffice to say, it grabbed all the headlines, and really, that was the whole point. I mean, for what other purposes would the use of four turbochargers be given the green light for? Sure, it produced a whopping 553 hp and 450 lb-ft of torque, but you would have to argue that this likely could've been achieved with a more conventional design. After all, quad-turbocharged engines never really proliferated, and there's probably good science behind why that's been the case. Nevertheless, there's nothing un-iconic about a V12 engine with almost as many turbochargers as you can count on one hand; and we love it all the same.
"10's all around for these special and iconic high-performance motors" – Best V10 Engines Ever Produced
Most people probably don't know it, but V10 engines are kind of the awkward middle child within the high-performance engine family. They are often overlooked for their smaller, more compact, and just-as-spirited V8 siblings, yet still somehow manage to cut a notably less brawny figure next to the larger V12 motors. In terms of outcomes, this is probably why even the most hardcore car enthusiasts will have a difficult time recalling more V10 production cars than you can count on one hand – there are less of them than you're likely thinking, and perhaps there should be more of them for this reason; but that's for a different discussion.
Interestingly, it's the Volkswagen Group which currently has the monopoly on supplying this particular engine, via Lamborghini and Audi production models which are under the corporation's umbrella (plus its namesake Volkswagen Touareg V10 TDI – more on that below). Meanwhile, you'd be forgiven for thinking that Ferrari would at the very least have delved into the art of the V10 -which they did, though only to produce such engines for Formula 1 cars from 1996 to 2005.
Quantifiably speaking, yes, there are less V10s out there than the other engines most closely related to it. However, each V10 engine mentioned on this list is undeniably iconic and rightfully potent, particulary when it comes to panache. So while this middle child might not always steal the spotlight, nor hog affection that goes to its siblings, it is in no way lacking any of the talent in its DNA.
Lamborghini / Audi 5.2L V10
Ever since 2008 – when the refreshed Lamborghini Gallardo LP 560-4 was released – all V10 engines used in the Lamborghini line-up have been based on the 5.2L architecture. This has carried over to the Gallardo's successor – the Lamborghini Huracán – with each and every one of its models having been fitted with the aforementioned power plant, up to this point. In the current stage of its evolution, the 5.2L naturally-aspirated V10 is mechanically identical to Audi's version of the engine (which uses 'Fuel Stratified Injection') and is seen Audi's own R8 supercar; however, power outputs vary depending on the trim levels of the respective models. Top 50 car engines ever developed.
Audi 5.0L V10 Biturbo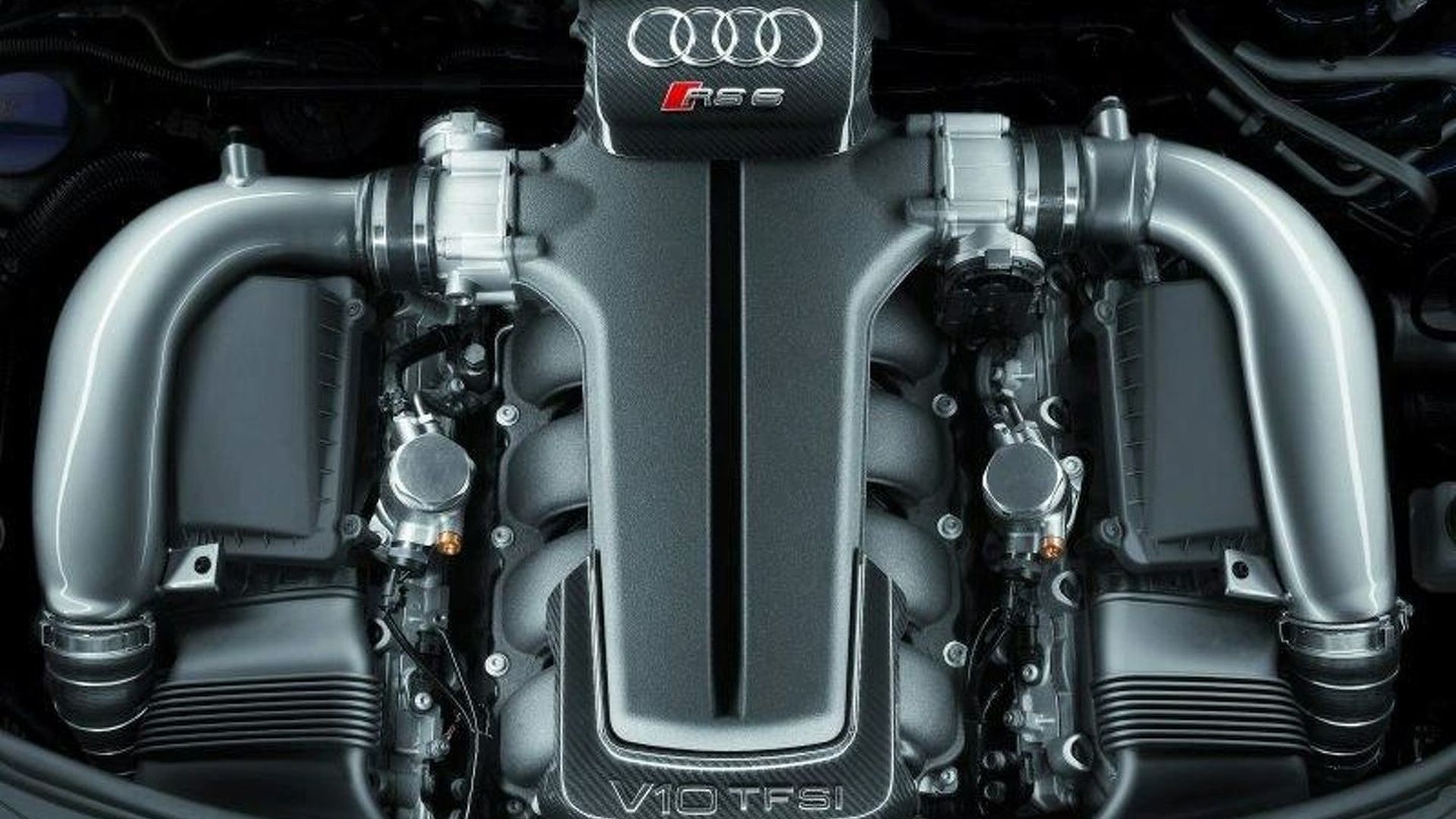 The sharing of tech (and a healthily-stocked pantry of engine parts) between Lamborghini and Audi spans back more than a decade now, and the engine used in the C6-generation Audi RS 6 has to go down as one of the best collaborations to date. Derived from the outgoing 5.0L naturally-aspirated V10 unit from the Lamborghini Gallardo, the motor in the RS 6 was repurposed with a pair of turbochargers. This allowed the super-wagon to produce 571 hp and 478 lb-ft of torque, on its way to becoming Audi's most powerful car ever, in 2010. While it was handily more powerful than its competition – the BMW M5 and Mercedes-AMG E63 – it also cost quite a bit more (almost double, after conversion) which is likely the reason why it didn't reach US shores.
Audi 5.2L V10 FSI 40V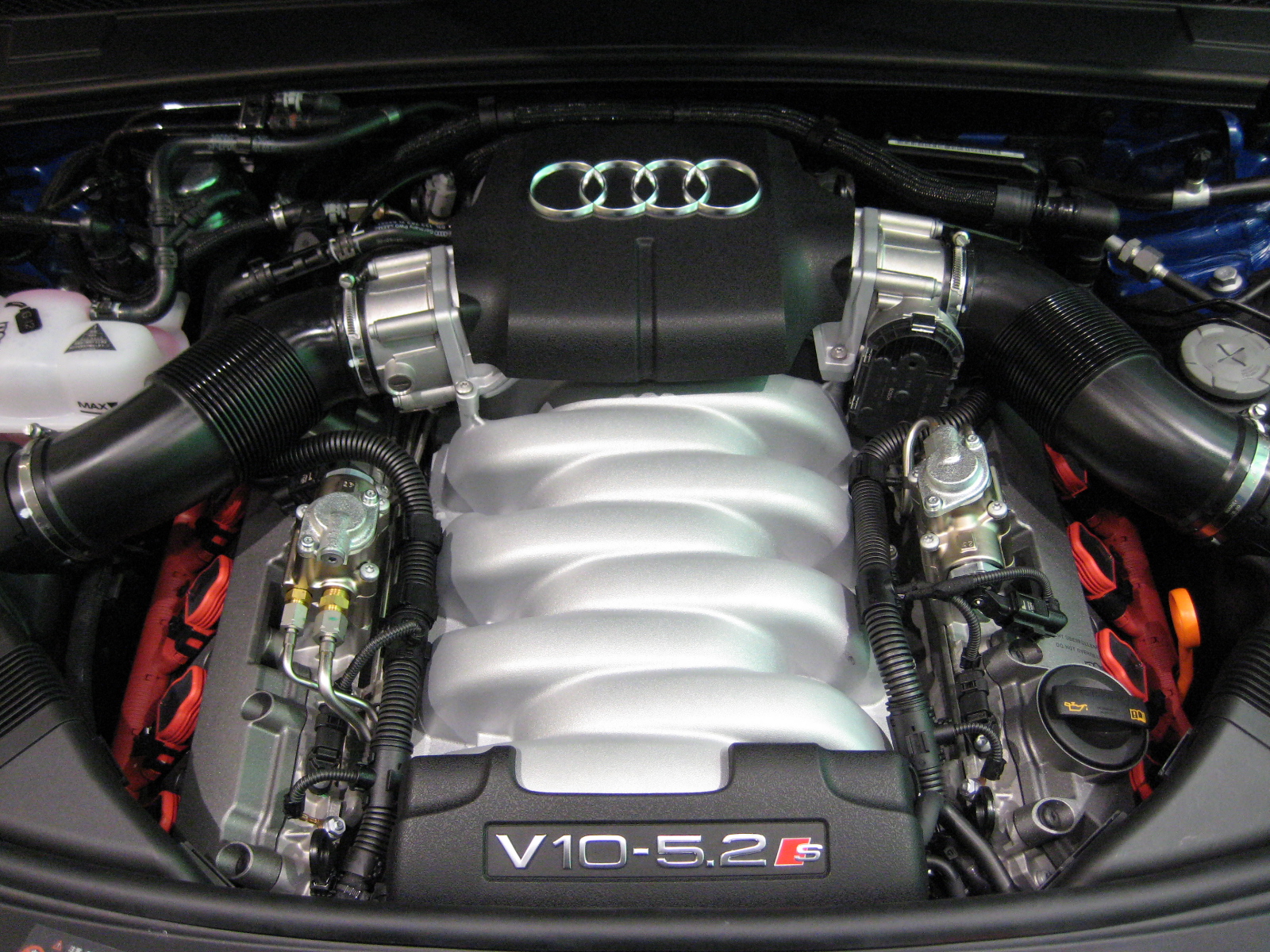 Unlike the C6-generation Audi RS 6, the 5.0L unit used in the third-generation Audi S6 is less related to a Lamborghini-equivalent and has more in common with an Audi 4.2L V8. For starters, it has a longer stroke and wider bore than the Lamborghini 5.0L V10 seen in the Gallardo, making for the better low-end power which is more befitting of the larger sedan. When considering the internals, the 5.2L motor in the S6 more closely resembles the aforementioned 4.2L V8 which was once used in the B6-generation Audi S4. Thanks to the tweaks mentioned above, this engine was good for 444 hp in the four-ringed luxury sports sedan. Top 50 car engines ever developed.
Lamborghini Huracán Performanté 5.2L V10
The 5.2L naturally-aspirated V10 power plant we've been speaking so much about in this list, is at the peak of its evolution via the current Lamborghini Huracán Performanté. In this configuration, the engine produces 640 hp @ 8,000 rpm and 443 lb-ft of torque @ 6,500 rpm; this makes the supercar good for 0-100 km/h in 3.1 seconds and a blistering top speed of 325 km/h, all without the assistance of any type of forced induction. Augmented with the greatest technologies available today, the motor produces its power more efficiently than ever before as well, with more than 70% of its torque already available as early as 1,000 rpm.
Dodge Viper ACR 8.4L V10
Even if the Dodge Hellcat is hogging all the headlines these days, there's always something you have to admire about the lunacy of a naturally-aspirated 8.4L V10 engine. No, the Dodge Viper doesn't do subtlety very well. Yes, it does happen to fall under the 'Old Testament' definition of "awesome". With 640 hp and 600 lb-ft of torque being produced from that colossus of an all-aluminum engine, the Viper has the exhaust note of a semi-dormant volcano. It would make absolutely no sense at all if it wasn't just so damn fast. Variants such as the SRT-10 and ACR-X took the road-going version of the car to the next level, with the latter being a turn-key, non-street legal race car which participates in Viper racing leagues around the world.
Lexus LFA 4.8L V10 (1LR-GUE)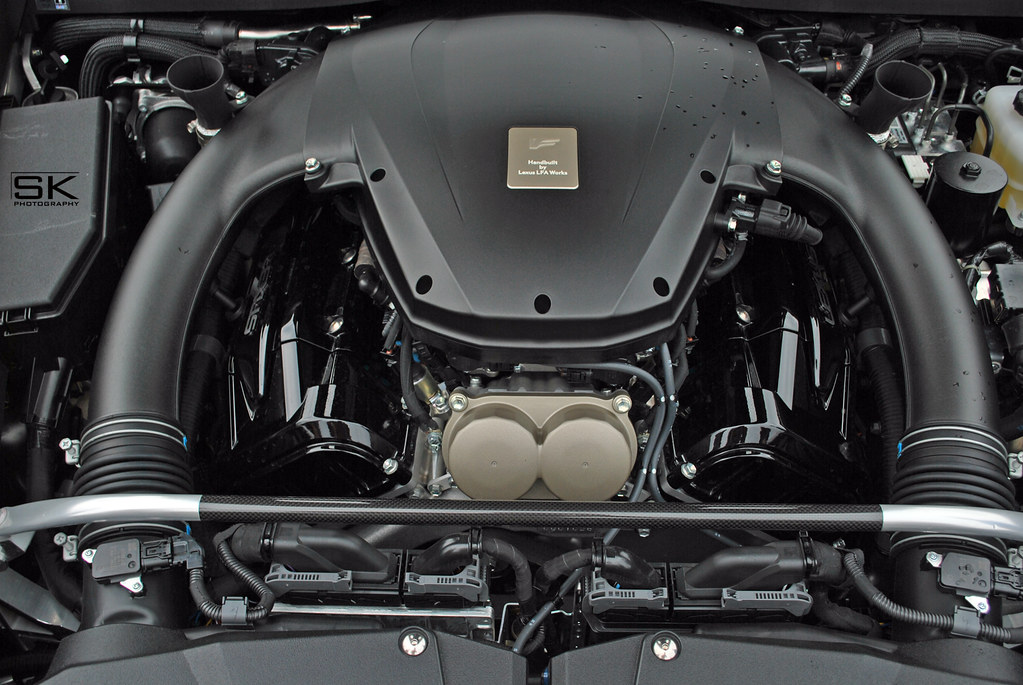 Many regard the Lexus LFA as one of the best supercars ever made. Lexus only made 500 units, and I assumed those 500 sold out quickly. I was wrong. Despite the fact that Lexus hasn't produced the LFA since 2012, there are still seven brand new LFA supercars for sale in the US, according to Carscoops. With all that said, the LFA came with one of the best V10 engines ever produced by a Japanese automaker. The 4.8L naturally-aspirated V10 – dubbed 1LR-GUE – made 552 hp and 352 lb-ft of torque. Developed in collaboration with Yamaha, it was a free-revving engine with an exhaust note that is truly unlike any other on the planet. As the sole representative from Japan, the 1LR-GUE is certainly one for the ages.
Porsche Carrera GT 5.7L V10 (980/01)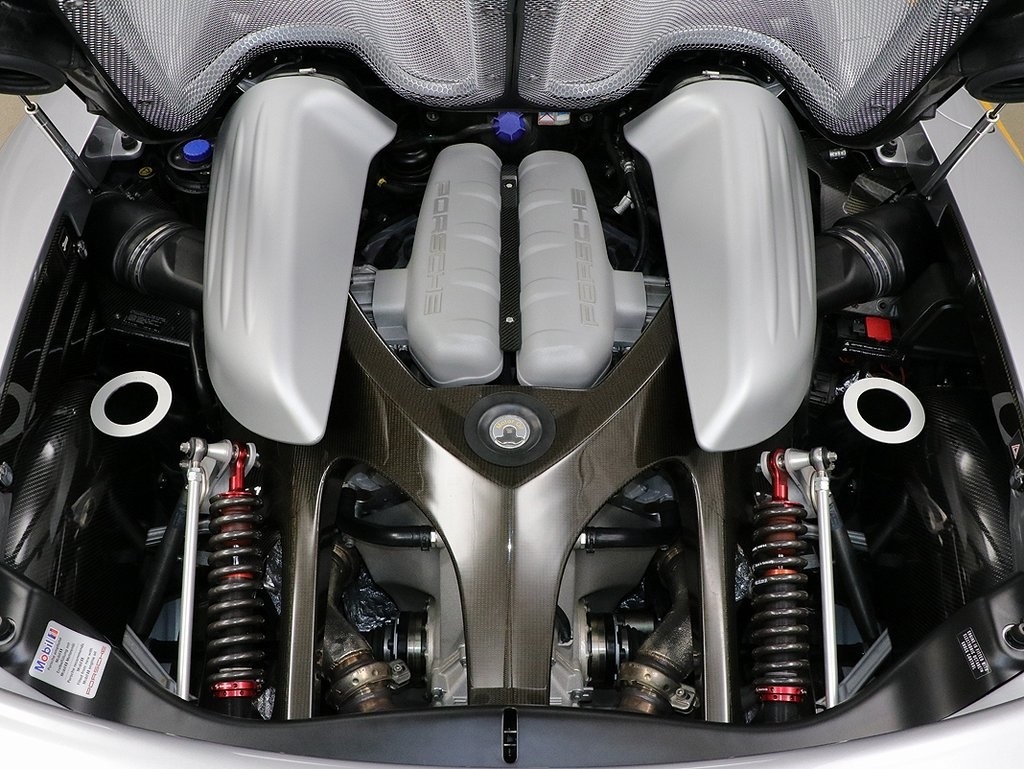 What makes the Porsche Carrera GT engine so special is that it is technically a race car engine. Not in that loosely-based sense – as is often used as a gimmick by salespeople – but in the true sense of the word. In the late 1990s, Porsche engineers in Zuffenhausen were assigned the task of developing a naturally-aspirated V10 concept engine, which was to later be used in a race car for the infamous 24 Hours of Le Mans endurance race. Sadly, the completion of that race car never came to fruition, but the efforts of the engine builders would not go to waste. Top 50 car engines ever developed.
Porsche decided to adapt the engine for use in the Carrera GT and took the necessary steps to not only refine it in order to satisfy production car protocols, but also managed to make it a more powerful version than the original unit. The result is a 5.7L naturally-aspirated V10 engine, which produces 612 hp @ 8,000 rpm and 435 lb-ft of torque @ 5,750 rpm. This allowed the Carrera GT to accelerate from 0-60 mph in 3.8 seconds and 0-100 mph in 6.9 seconds, with a top speed of 205 mph.
BMW M5 V10 (S85)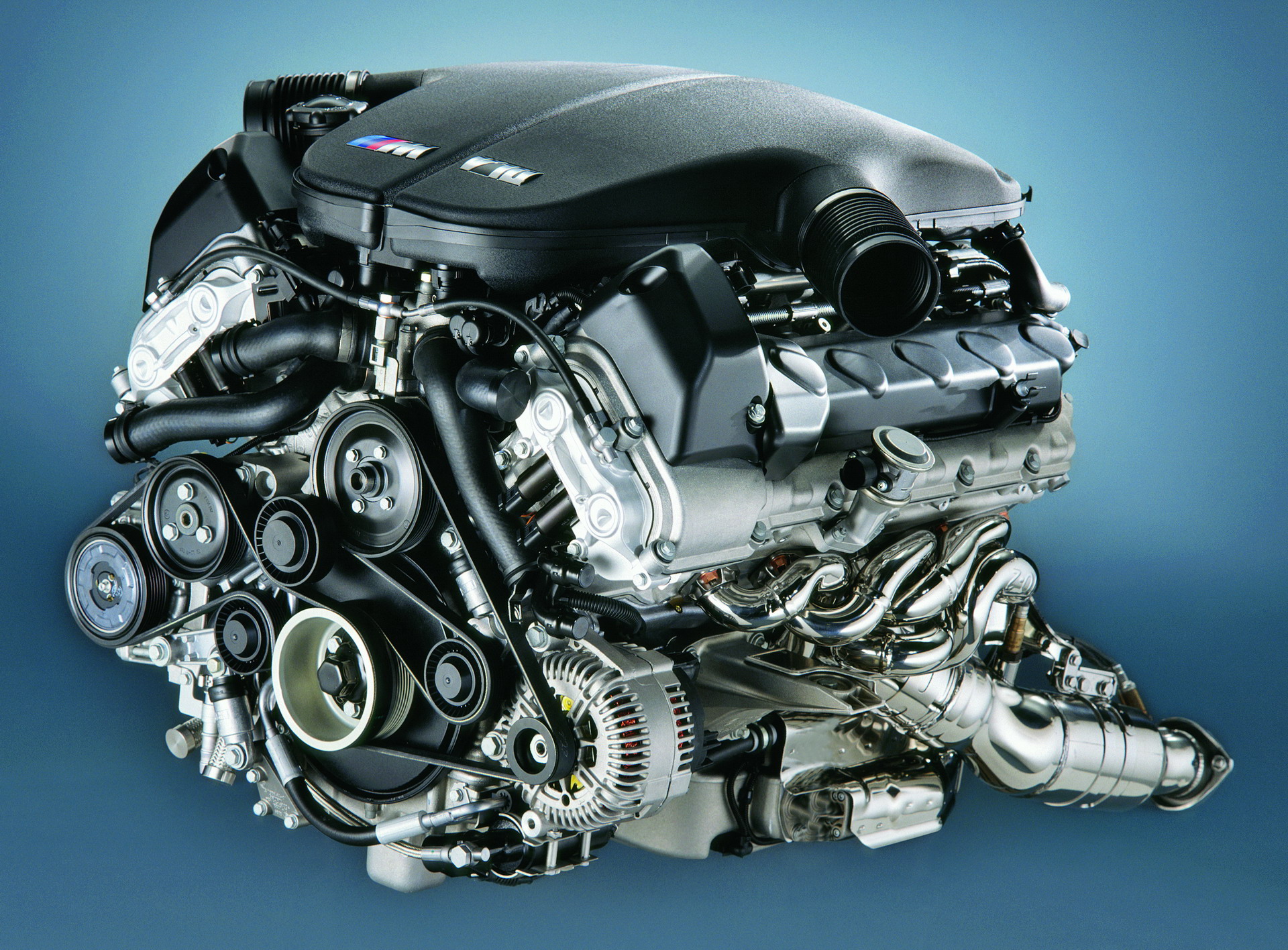 Released in mid-2005, the E60 M5 sedan featured a high-revving and ultra-powerful V10 engine, which was the only one of its kind in a series-production car at that moment in time (while also being the marque's most powerful production car engine ever made). The 5.0L naturally-aspirated unit shared more than just the same number of cylinders with the Formula 1 engine that powered the BMW Williams F1 team. Technology forged in the heat of motorsport had enhanced the processes and components used in creating this new powerhouse. As you would expect from BMW M, this high-performance motor generates enormous pulling force over its entire speed range.
VW Touareg V10 TDI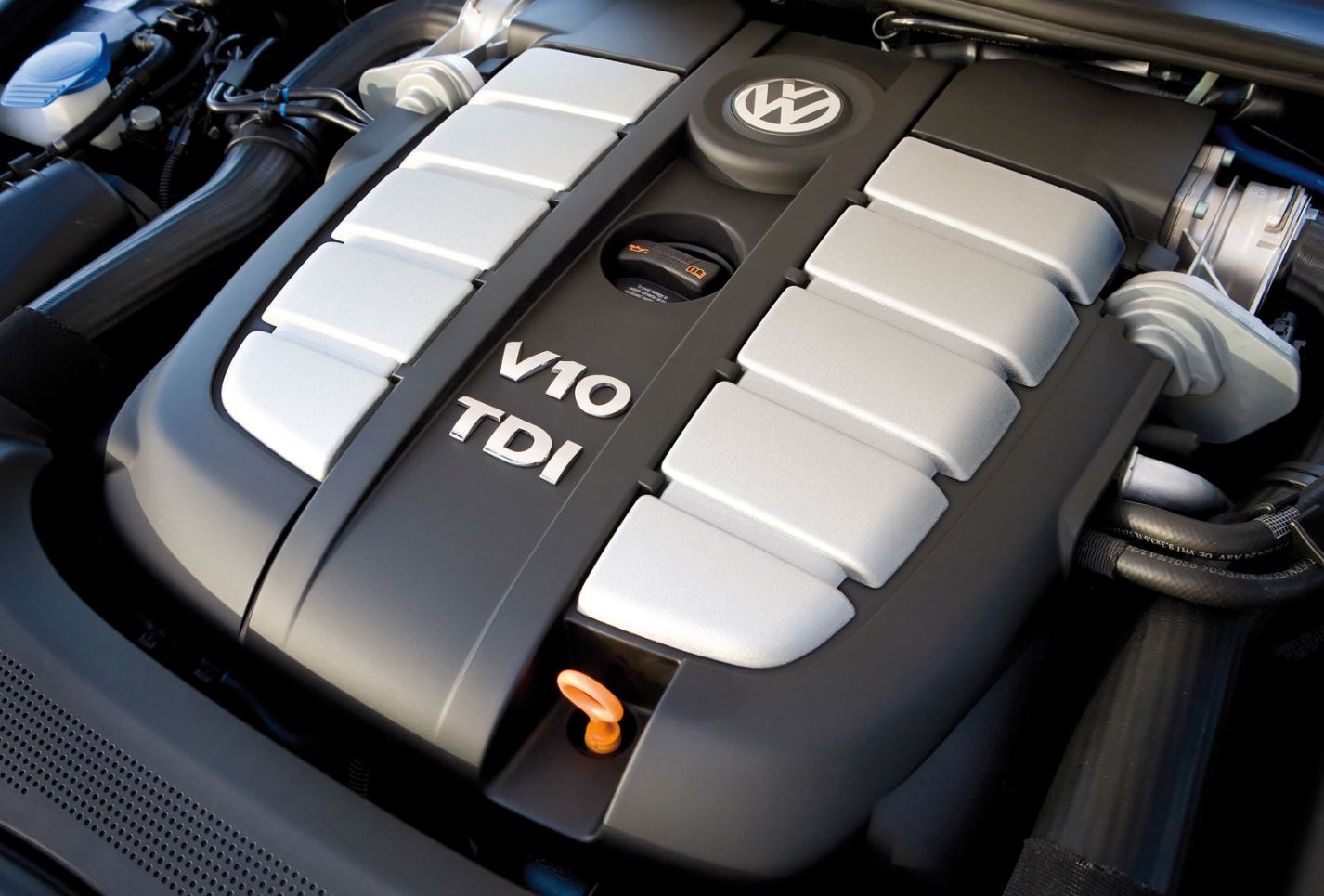 What makes this particular automobile so remarkable is not that it's a Volkswagen, or an SUV, or diesel-powered, but that it's all of those things with a twin-turbocharged 10-cylinder engine thrown into the mix. This Frankenstein-ish power plant would only feature for a couple of years before the whole Dieselgate fiasco, and had it not been for the calamity which ensued, it surely would have garnered more recognition than it has mustered to this day. All of its characteristics exude a bias towards low-end power, and the stats certainly reflect this – 309 hp and 553 lb-ft of torque @ 2,000 rpm. Oh, and don't forget, a very utilitarian tow rating of 7,700 lbs.
Dodge Ram SRT-10 8.3L V10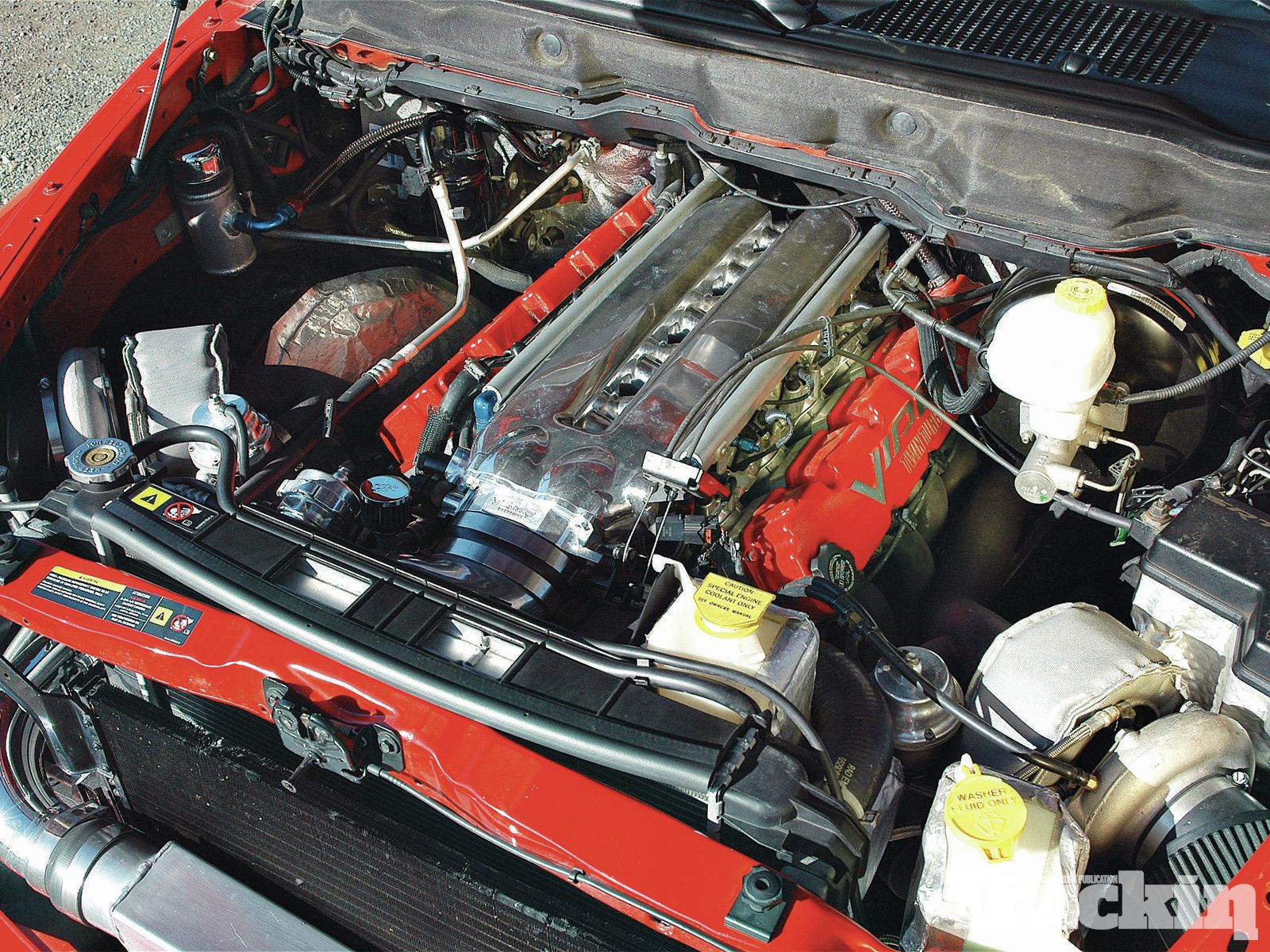 Imagine a Viper engine swapped into, then modified for use in a Dodge Ram pick-up truck, and voila. So what exactly does this magic trick entail? Well for starters, in July 2004, a Dodge Ram SRT-10 driven by NASCAR driver Brendan Gaughan, set the Guinness World Record (and the SCCA record) for the world's fastest production truck when it achieved an average top speed of 154.587 mph. This was all possible with the help of the 500 hp and 525 lb-ft of torque that the naturally-aspirated motor produced, with 90% of its torque available at 1,500 rpm. It could even tow up to 7,500 lbs; though we would bet that most owners would forgo any procedures that might keep them from optimizing their 1/4 mile times.
"The greatest of the eight-est" – Best V8 Engines Ever Produced
In almost all cases, manufacturers who choose to equip their cars with a V8 engine do so knowingly and deliberately. After all, such engines represent the first big step in crossing over a threshold to where performance becomes the sole focus; efficiency and economy are often not even invited as guests for a ride-along in the back seat.
With a quick glance at the back mirror, those pesky 4-cylinder and 6-cylinder engines begin to disappear into the horizon. Then, with the proverbial "pedal-to-the-medal", the V8 power plant unanimously declares "all-in" with a loud roar – because this journey is all about thrill-seeking and checking things off the bucket list.
While high-performance V8 engines have normally been reserved for exotics – and muscle cars, in the more distant past – its application has been seen more in the mainstream these days. With the proliferation of automotive technologies, the V8 engine has become a gateway into the world of attainable supercar performance; each new engine is better than the one before it.
Ferrari F106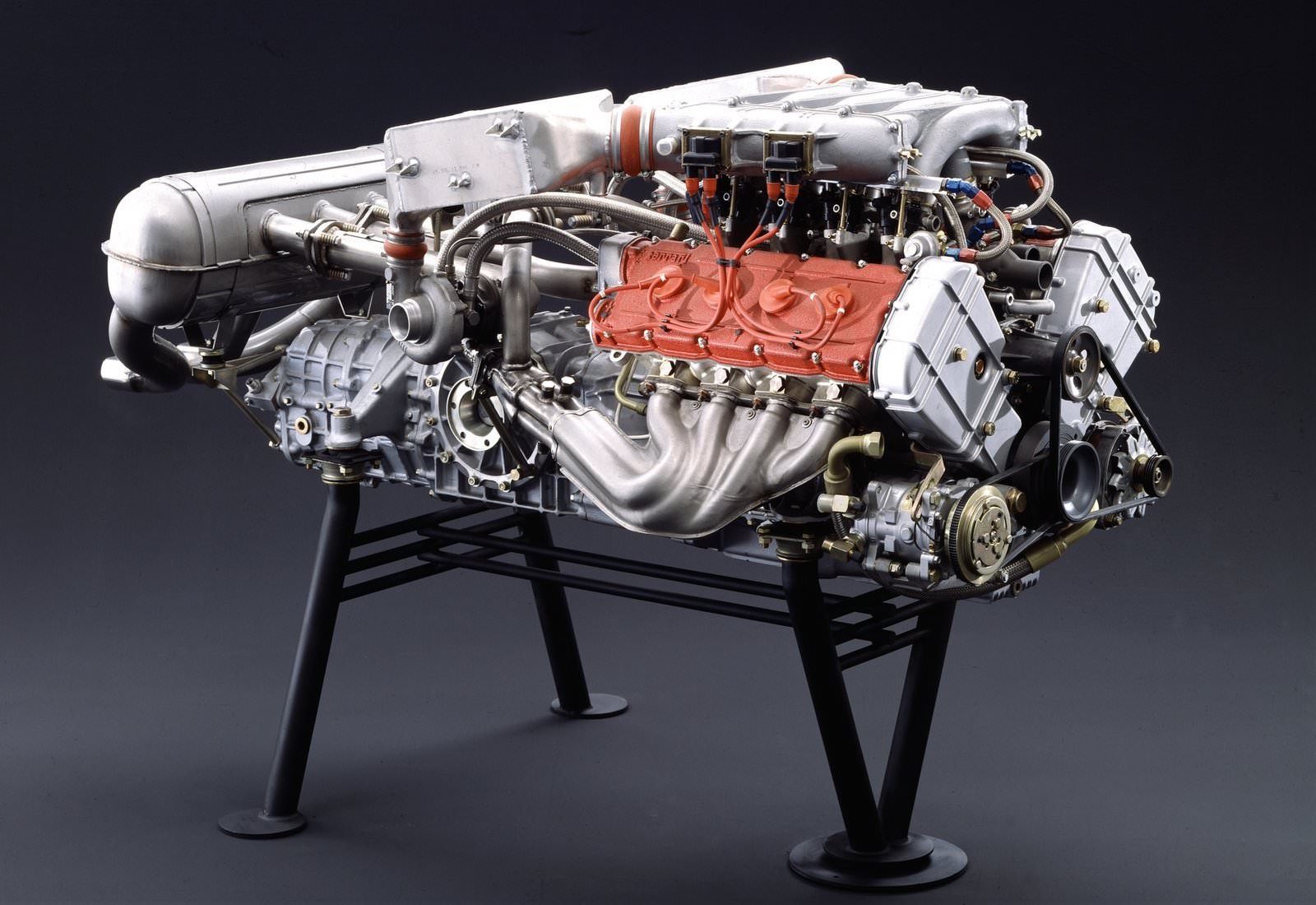 Ferrari's F106 V8 engine dates as far back as 1973, where it first featured in the Dino 308 GT4. Right from the get go, it produced an impressive 250 hp from a 2.9L naturally-aspirated engine, which featured a flat-plane crank and dual-overhead cams.
Such was the longevity and capability of the F106 unit, that it continued to be used – with significant updates and revisions along the way, including electronic fuel injection and multi-valve heads – for more than 30 years. Notable models which were equipped with the engine include the F355, 360 Modena and arguably the most famous Ferrari of them all; the Ferrari F40, which fashioned a twin-turbocharged version of the F106 producing 471 hp. Top 50 car engines ever developed.
Dodge Supercharged Hemi
Dodge's Hellcat series of cars have really taken the world by storm, offering almost unfathomable power in a non-exotic production vehicle – or any vehicle for that matter. It's truly a revival of the "American muscle" movement, with the supercharged Hemi able to produce as much as 807 hp and 717 lb-ft of torque via the Dodge Challenger Hellcat Super Stock. Handling, agility, and all that other kind of stuff aside, this makes the Hellcat Challenger/Charger the quintessential American sports car which can be had for well under the 6-figure mark brand new. Top 50 car engines ever developed.
The automaker is now offering the 6.2L 'Redeye' V8 as a crate engine (aptly nicknamed 'Hellcrate') through Mopar. It can be purchased at a starting price of US$21,807. The 'Redeye' version comes with a larger supercharger than the previous Hellcrate engine, and has been tuned for more boost, a slightly higher redline, and a host of other improvements. These are what has allowed it to improve from 707 hp and 650 lb-ft of torque, to its current 807 hp state. An absolute unit.
BMW S63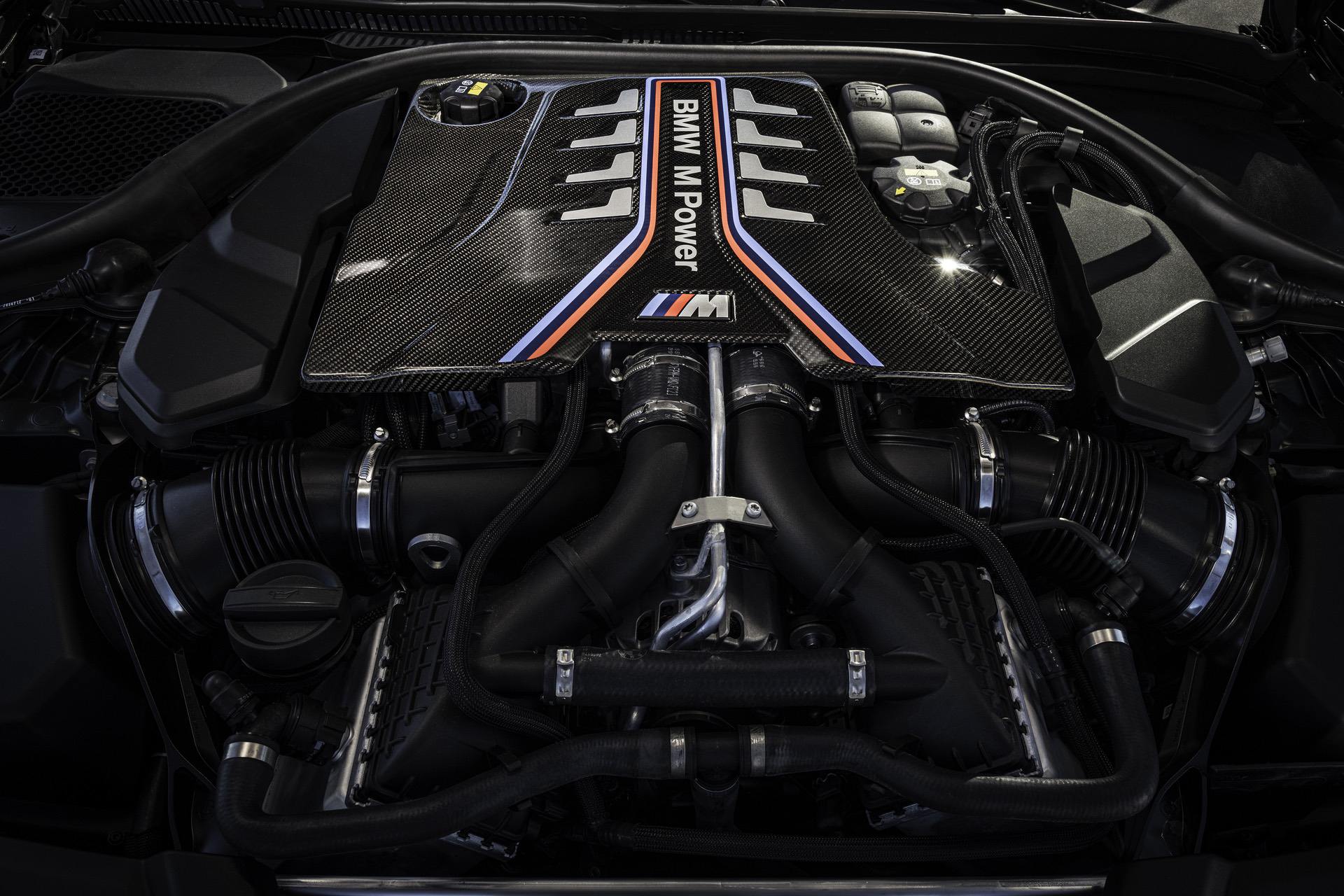 Like other automakers on this list, BMW is no stranger to producing some of the world's best V8 engines. The latest incarnation would be its masterpiece 'S63' – a 4.4L twin-turbocharged engine which produces at least 600 hp and 553 lb-ft of torque in the current-gen BMW M5 sedan.
Thought its true that this grants the quintessential luxury-performance saloon some serious supercar credentials, a look back to days gone by reminds us that engines such as the 'S62' and 'S65′ deserve just as much recognition for their contribution to the Bavarians' V8 platform. Respectively, each engine displaced 4.9L and 4.0L and were both naturally-aspirated.
Lexus 2UR-GSE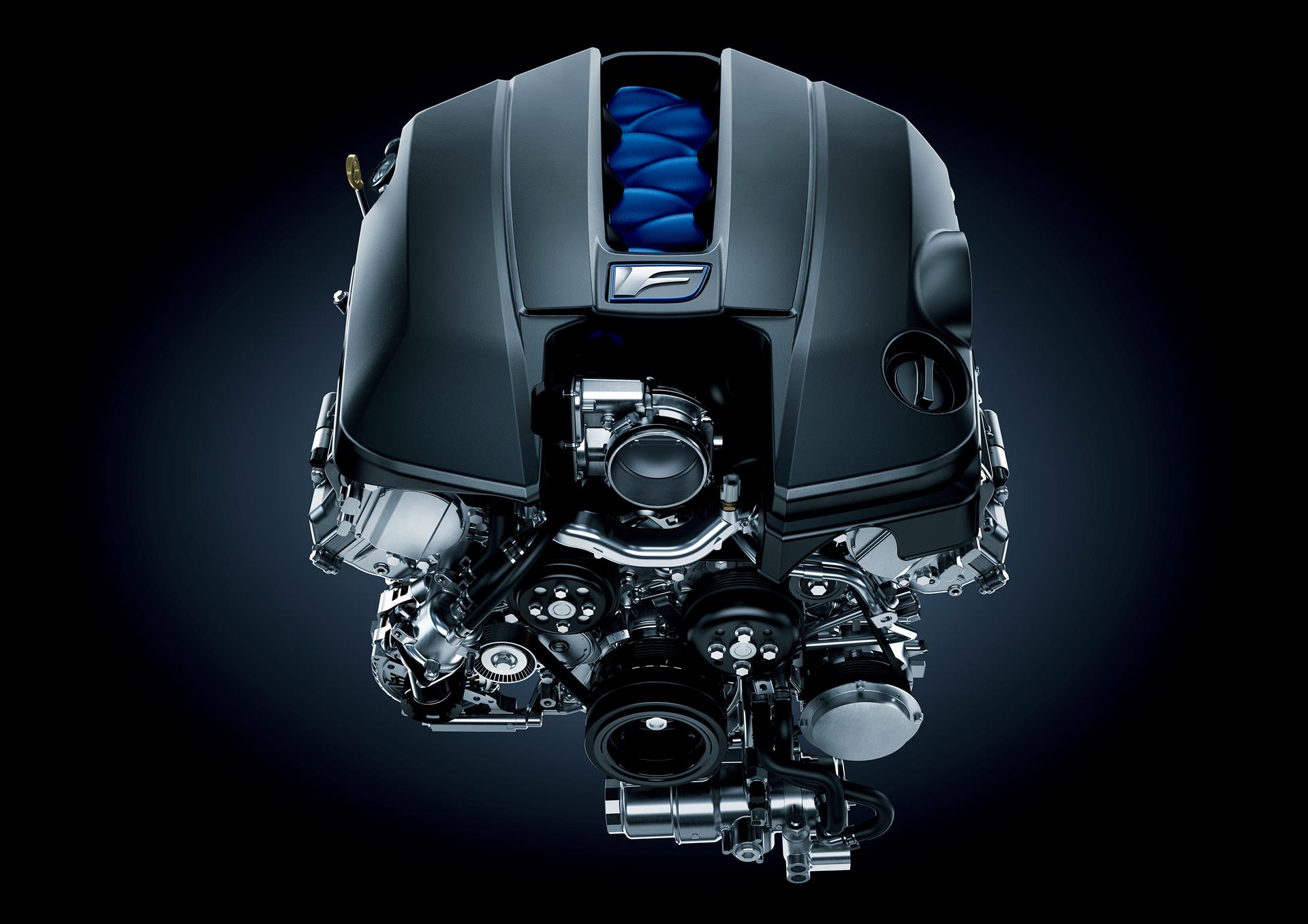 The 2UR-GSE is the latest iteration of Lexus' increasingly iconic naturally-aspirated V8 power plant. Currently reserved for the marque's high-performance models – such as the IS F, RC F, GS F, LC 500 and brand-new IS 500 – the 5.0L engine blends typical Lexus reliability with high-revving Japanese character. In its most powerful configuration, the 2UR-GSE produces 475 hp in the Lexus LC 500. Amidst an ever-changing landscape shifting towards hybridization and electrification, we hope that Lexus' legendary naturally-aspirated V8 lives on for as long as possible
Much like our other selections, the 2UR-GSE owes much of its distinctions to predecessors such as the 1UZ-FE which debuted in 1989. This 4.0L V8 engine has proven to be bulletproof over the test of time, in addition to universal recognition it has received for being smooth, refined and sufficiently powerful for its intended application. It has served as the platform upon which the formidable GSE would eventually be conceived.
Ferrari F136
The F136 succeeded the legendary F106, first appearing as a 4.3L naturally-aspirated engine in the 2004 Ferrari F430, producing 483 hp. Like the F106, the F136 would see widespread application throughout the Ferrari lineup; however, it was also featured on a number of Maserati models in concert with the relationship between the two marques.
Most notably, a 454 hp, 4.7L version of the F136 featured on the Maserati GranTurismo and is widely regarded as having one of the best engine/exhaust notes to come out of the V8. The F136 would reach its zenith in the Ferrari 458 Italia Speciale, where it cranked out a massive 597 hp from its 4.5L naturally-aspirated power plant. Top 50 car engines ever developed.
Perhaps the most significant (and regretful) fact about the F136, is that it is the last naturally-aspirated V8 engine Ferrari would ever produce. It was replaced by the twin-turbocharged F154 V8 engine in 2015, where it debuted on the Ferrari 488 GTB.
McLaren M830T / M840T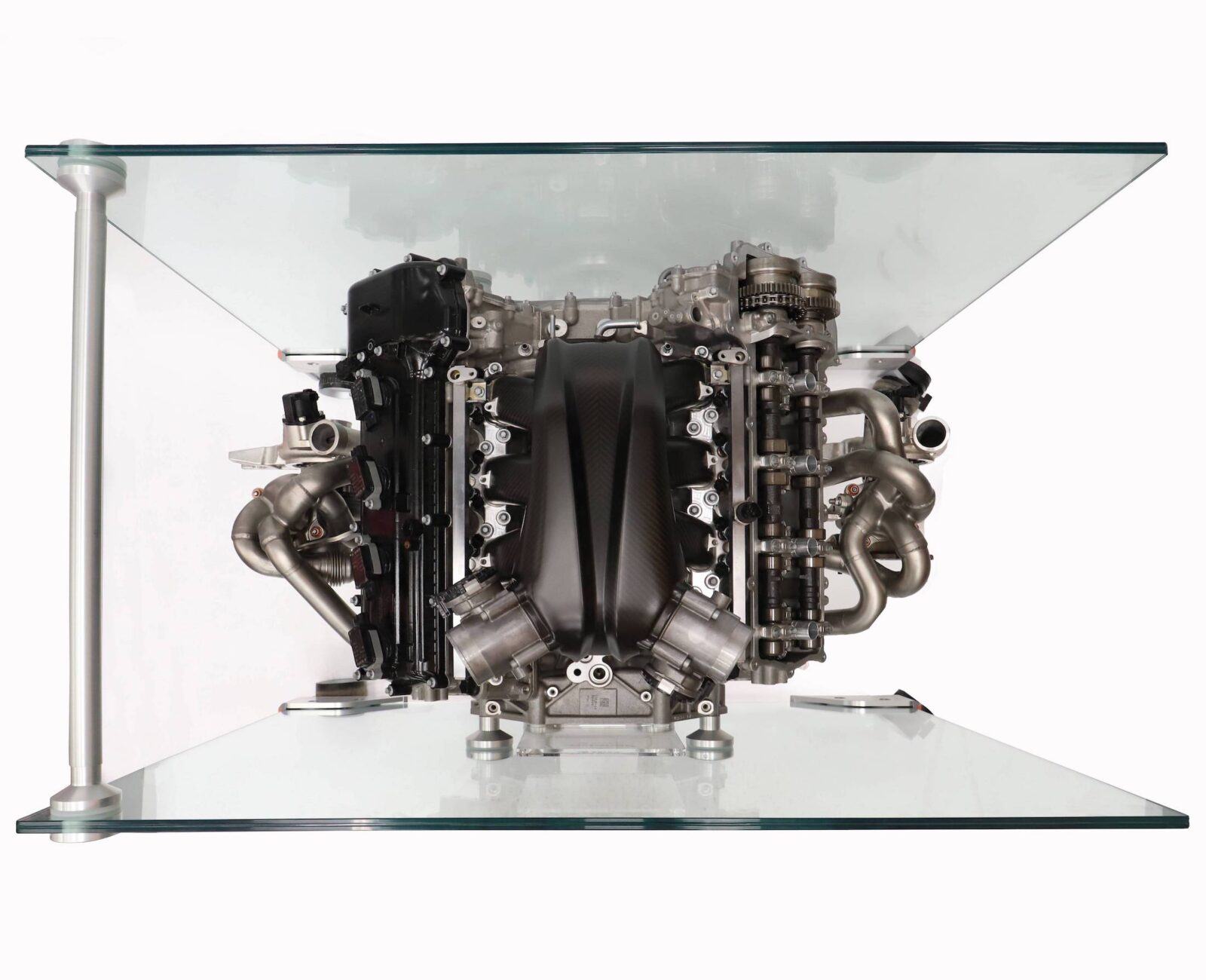 Despite only producing V8-powered automobiles since as recently as 2011 (via the MP4-12C), you could argue that McLaren are now the world's artisans of the V8 engine, and few would dispute that. After all it's virtually all they know these days, with every single McLaren model – bar the V6-hybrid McLaren Artura – fitted with some adaptation of their M838T or M840T twin-turbocharged V8 motors.
The 3.8L M838T is found in its Sports Series range of cars, which includes the entry-level McLaren 540C and goes all the way up to the indomitable 666 hp McLaren 675 LT. The 4.0L M840T features on all of the Super Series cars, which covers the '700 range' of models, plus the addition of the McLaren GT. In its Ultimate form, the 4.0L unit – dubbed the M840TR – produces 814 hp in the McLaren Senna GTR. The McLaren Speedtail hybrid 'hyper-GT' produces some 1,035 hp through the combination of an M840T and electric motor.
Introduced in 2014 for the C7 Corvette, the 6.2L naturally-aspirated V8 LT1 engine is part of GM's 5th-generation small black engine family. It continues to be used on the present-day Camaro, with a new version of the engine – known as the LT2 – carrying on the bloodline via the brand new mid-engine C8 Corvette. The LT2 retains the 6.2L capacity but is more powerful that the LT1, producing at least 495 hp and 470 lb-ft in its latest configuration.
This was achieved by designing more efficient air-intakes sand exhaust manifolds, while also featuring a better lubrication system and more resilient camshaft. While it's not a monster-out-of-the-box like say, Dodge's Hellcat engine, the lightweight naturally-aspirated powerplant remains perfectly suited for what the Corvette is the best at delivering – brilliant all-around performance at a fraction of the cost of comparable options. The still-relevant LT1 is now being offered as a crate engine via GM's performance division, with its 460 hp on tap for under US$10,000. Project car, anyone?
Audi 4.2L FSI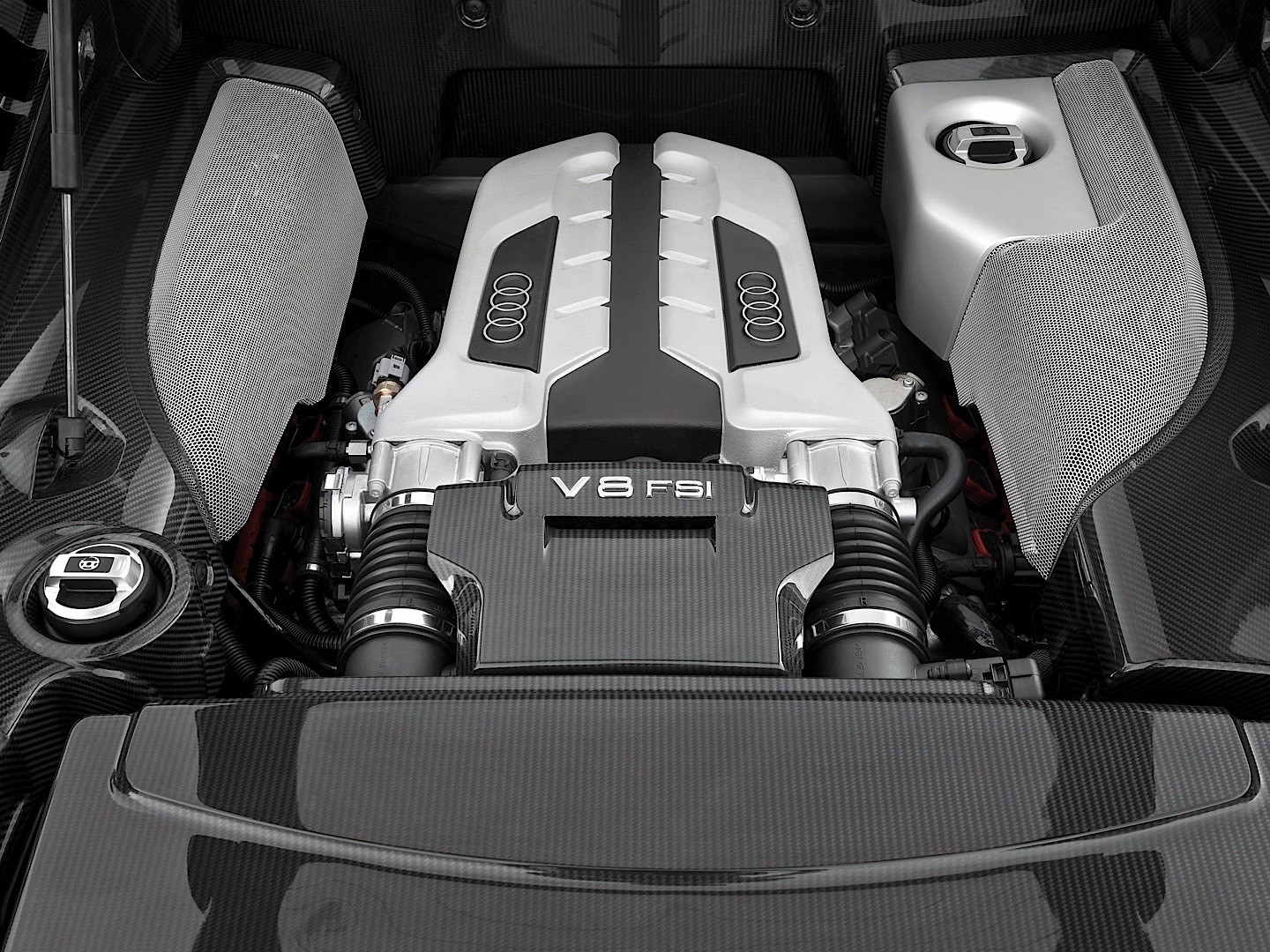 When Audi's 4.2L FSI V8 engine was introduced, it was a bit of a departure from what Audi enthusiasts had grown accustomed to over the years. As one of the marques which helped to proliferate the use of turbochargers on production cars, the aforementioned engine first appeared in the 2006 Audi RS4 as a high-revving naturally-aspirated power plant.
Over time, it proved to be a fan-favorite in spite of its lack of forced induction and featured on such models as the RS5 and mid-engined R8. As a naturally-aspirated unit, the FSI V8 was able to rev up to 8,250 rpm and had a distinctively exotic exhaust note, regardless of the model it was mounted in.
The engine remained naturally-aspirated up until its use in the 444 hp Audi RS5; since then, recent iterations of the engine are now turbocharged and produce up to 600 hp.
Mercedes-AMG M178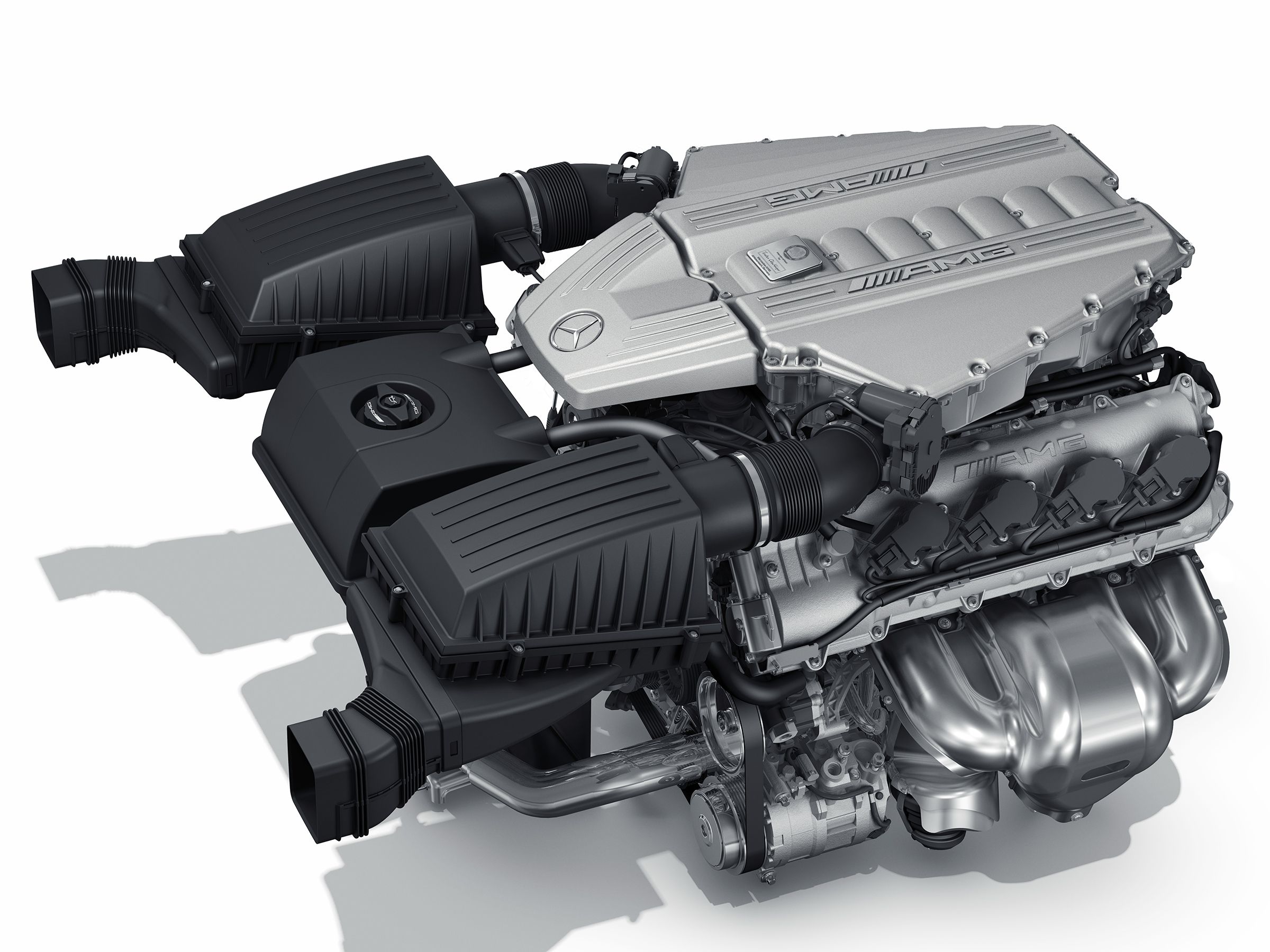 The modern day Mercedes-AMG line-up is blessed with their omnipotent 'M178' 4.0L twin-turbocharged V8, which itself deserves all the plaudits and is a shoo-in for selection. While it's the most advanced iteration of the automaker's V8, our personal favorite would have to be the 'M156' 6.2L V8 first powered the 467 hp naturally-aspirated C63 AMG. Like its successor, the M156 would feature in almost every Mercedes-AMG model of that era, including the SL63.
The ultimate version of this V8 motor would be the 'M159', which was equipped in the automaker's flagship SLS supercar, producing 622 hp. The SLS has since been succeeded by the Mercedes-AMG GT Black Series, which produces 720 hp from its twin-turbocharged 'M178', and recently set the new production car lap record at the Nürburgring.
Ford 'Voodoo' Flat-Plane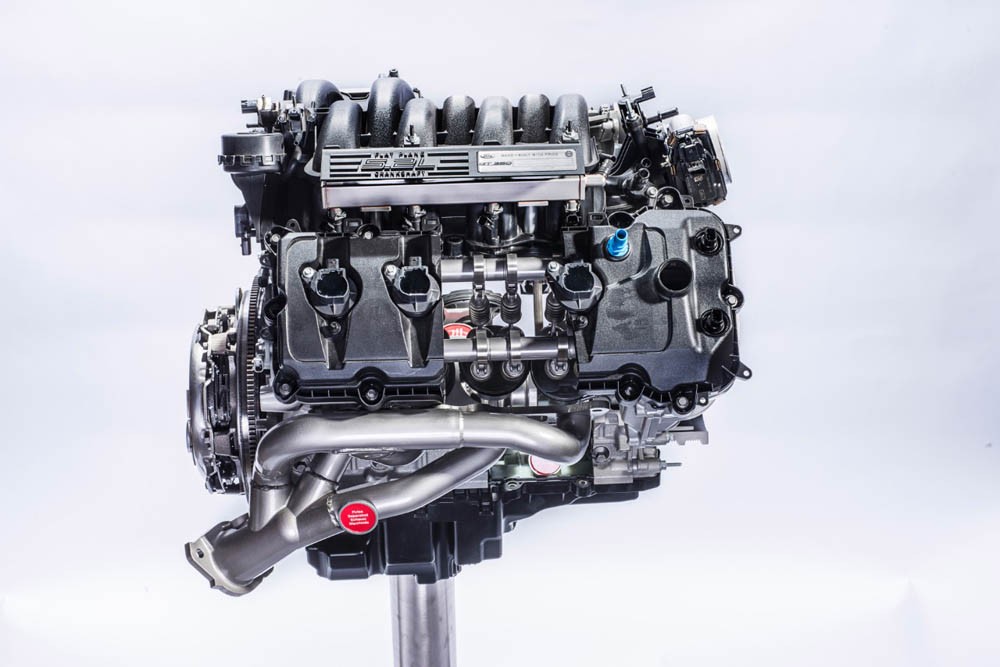 The 'Voodoo' engine produced by Ford is a 5.2L naturally-aspirated V8 which was made specially for cars such as the 526 hp Mustang Shelby GT350 and GT350R. Suffice to say, the Voodoo was a match made in heaven for the line-up's most balanced and track-focused Mustang models. By utilizing a flat-plane crankshaft, the engine is weighs less and revs faster and higher (to 8,250 rpm) than the otherwise standard engines in other models. Its configuration also gives it an almost-exotic exhaust note, border-lining on 'un-American' – but owners won't mind, as their domestic car hangs just fine with the exotics and other high-end sports cars on the race-track.
Following the template of past flat-plane V8 engines, the Voodoo applies the similar principles as engines that once powered hot-rods and muscle cars back in the 20th century – with impressive bang-for-buck, the engines produced big horsepower at a fraction of the cost of what was used in European sports cars and even domestic rivals. This provided owners with a rightfully potent automobile, and extra money left in the bank. It's hard to argue with that!
"The Smooth. The Superb. The Sublime. The best 6-cylinder engines of all time" – Best 6-Cylinder Engines Ever Produced
In this modern automotive era, we are spoiled for choice when it comes to the wide array of supercars, hypercars and now EVs, to choose from. At this level of the game, the V12 engine is often seen as the standard bearer, while a V8 is the lowest benchmark. It's no wonder the 6-cylinder engine often gets overlooked, despite continuing to power some of the world's greatest sports cars and supercars. This isn't just hyperbole. Case in point: the Porsche 911.
With the help of turbochargers, superchargers and in some cases, electric motors, 6-cylinder engines can often squeeze out just as much performance as their larger counterparts, while retaining the benefits of being more compact, lightweight and fuel-efficient. So while they aren't typically as flashy nor headline-making as the V12s and V8s of the world, they are at the very least, an extremely versatile and dependable option to have in the engine war chest.
It's no wonder the proliferation of the 6-cylinder engine has been democratized by auto manufacturers internationally, with the platform remaining ever-present across all continents. The Germans, Japanese and Italians are amongst those who persist with their undying trust in the 6-cylinder engine; so much so that it is still being improved and continues to power some of the best automobiles to this day.
Porsche M97.74
Appearing in the 997.2 GT3 RS 4.0, this truly special engine was the swan song for both the 997-generation (2005-2012) of Porsche 911 cars, as well as the Mezger engine design. Borrowing a number of components from the RSR race car, the 3.8L engine in the 'regular' 997 GT3 RS was then upgraded to a 4.0L flat-6 (hence the name) which produced 500 hp and 339 lb-ft of torque, while having an astronomical 8,500 rpm redline.
So convincing was this move, even to Porsche's own brass, that the following two generations (991 and 992) of 911 cars would continue to employ the 4.0L naturally-aspirated engine in the GT3 lineup, proving that the 'godfather' RS 4.0 was also well ahead of its time.
With the proliferation of PDK transmissions, amongst other safety-centric technological advancements, many consider the M97.74 and the GT3 RS 4.0 it powered, to be the final rendition of the purists' GT3 RS.
BMW S54B32
Collectively, the BMW E46 M3 (2000-2006) is one of our favorite cars here at supercars.net, and this is in no small part thanks to its S54B32 inline-6 engine. The naturally-aspirated unit is as pure as it gets from the Bavarian company, with a peak 333 hp being produced at 7,900 rpm on route to its 8,000 rpm redline. Other stand-out features include individual throttle bodies and drive-by-wire operation, further accentuating the car's inherent rawness and driving purity.
When mated to the 6-speed manual transmission, it really doesn't get much better than this – from BMW or any other company, for that matter. If BMW ever wanted to revert back to a more minimalist philosophy, the S54B32 and E46 M3 would be writing the playbook.
Nissan RB26DETT
The 2.6L twin-turbocharged inline-6 from Nissan – the RB26DETT – has become something of a legend. It would take nothing short of the absolute best from the Japanese automaker to produce something worthy of powering a car amicably referred to as "Godzilla", and the RB26DETT has never disappointed. While it was limited to 280 hp from the factory – thanks to the gentleman's agreement between Japanese manufacturers to cap engine outputs at the time – the R34 Skyline GT-R was anything but docile, even when left untinkered.
The engine's true capabilities were the worst kept secret in the industry, with a simple flash of the ECU (to effectively remove the restrictions) plus a few bolt-on performance modifications allowing the RB26DETT to produce much, much more.
Porsche MDH.NA
Suffice to say, the 991 GT2 RS is the absolute peak of 6-cylinder performance. The GT2 RS in its entirety is more closely based on a Turbo S than it is to its closest GT relative, the 911 GT3 RS. After all, at the heart of the GT2 is a revamped version of the Turbo S engine (known as MDH.NA), while the GT3 has its own unique naturally-aspirated 4.0L power plant. The 3.8L flat-6 was fitted with larger variable-geometry turbos and was given an increase in peak boost to 22.5 psi, which is 24% higher than the Turbo S.
Larger intercoolers, a water-spray system, larger exhaust manifold primaries and redesigned pistons work in synergy with the aforementioned to provide the GT2 RS with 700 horsepower @ 7,000 rpm and 553 lb-ft of torque. Porsche has long buried the traditional notion of "turbo-lag" in its cars with VarioCam Plus and the GT2 RS is no different, making peak torque from 2,250 rpm to 4,000 rpm.
Honda C30A
The original 1990 Acura NSX was fitted with a 3.0L naturally-aspirated V6 engine which produced 270 hp. At the time, that was more than sufficient to go shoulder-to-shoulder with any of its supercar contemporaries; particularly Ferrari, its target rival. What truly made the C30A – and as a whole, the NSX – so special, was that it broke the mold of what a supercar could and should ought to be: reliable and useable. Almost blasphemous thinking at the time, the idea of the "everyday supercar" was still a twinkle in the eye of exotic car auto makers.
The engine demanded very little, if anything, above the expected maintenance laundry list and associated costs of keeping a Honda Accord running. It was refined. It performed. It was comfortable. You could drive it whenever you wanted to. The NSX is widely recognized as one of the forefathers of the modern supercar, going on to inspire the likes of the McLaren F1. That puts it in pretty high regard, I'd say.
Alfa Romeo 'Busso' V6
There is no other power plant on this list which has been as long-serving or as versatile as the 'Busso' engine. Named after its chief designer, Giuseppe Busso, the foundation of this engine was its 60° V6 configuration. From there, a colorful variation of engines were built upon it, with displacements ranging 2.0L to 3.2L plus the use of turbochargers (or none at all) depending on the intended application of the automobile it was being fitted to. This meant you could see a Busso producing as little as 130 hp in a 1983 Alfa Romeo Alfa 6, and up to 247 hp in a 2005 Alfa Romeo 156 GTA.
Regardless of its specs, every Busso engine shares the same reputation for being remarkably smooth, having good low-end power delivery, and an incredibly unique engine note at higher rpms. Needless to say, the Busso would go on to be the centerpiece of the brand for a good 30+ years.
Nissan VR38DETT
While there was a general expectation that the latest iteration of the GT-R would (or should) be powered by a V8 engine prior to its official release, Nissan inevitably stuck to its guns and continued the tradition of powering its flagship car with its tried and trusted 6-cylinder unit. This time, the engine would be produced in a 60° V6 configuration to ensure that the massively sized and massively powerful engine, could fit under the front hood.  In the very first R35 GT-R cars, the 3.8L twin-turbocharged V6 produced 485 hp, before being upped to 545 hp for the 2012 refresh.
Since then, the hand-crafted power plants have been continuously improved over the years, with the most powerful factory version of the car – the Nissan GT-R Nismo – producing some 600 hp. Perfectly matched with Nissan's dual-clutch transmission and proven all-wheel drive system, the VR38DETT continues a legend while forging one of its own, all at the same time.
Jaguar JRV-6
It's rather humorous that the JRV-6 would not have made it on this list if not for a gaff on the part of Jaguar, who had originally marketed and went as far as promising that the XJ220 would be delivered to its first customers with a V12 engine. Nevertheless, the eventually-fitted twin-turbocharged 6-cylinder unit was borrowed from a Group B Rally car – the Rover Metro 6R4. It was rightfully potent, and actually made more power than the naturally-aspirated V12 which was originally proposed.
Able to produce up to 542 hp, the XJ220 would even go on to become the fastest production car in the world at the time, topping out at a brow-raising 217 mph. While its credentials were proven in the real world, I'm sure many buyers were still a bit miffed at the fact that the final product came with half the number of cylinders they had put down their deposits down for.
Toyota 2JZ-GTE
The Toyota Supra was equipped with the ubiquitous 3.0L inline-6 2JZ engine in all its models. The most recognized version of the Supra – the Turbo – possessed a twin-turbocharged engine known as the 2JZ-GTE, which was specced with up to 326 hp. The two turbochargers operated sequentially and not in parallel. This essentially meant that one of the turbochargers was designed to provide near-maximum torque as early as 1,800 rpm, while the second turbine would be engaged in a "pre-boost" mode until around 4,000 rpm where thereafter both turbochargers would be spinning at full blast. This translated to better low-end throttle response, less 'turbo lag', increased boost at higher engine speeds, and a relatively linear delivery of power – all of which was difficult to achieve in unison, with the technology available at the time.
The 2JZ-GTE-equipped Turbo model was able to sprint from 0-60 mph in just 4.6 seconds and complete the standing ¼ mile in an impressive 13.1 seconds. Top speed was recorded at 155 mph.
Alfa Romeo 690T
The fact that the engine in the 2021 Alfa Romeo Giulia GTA is derived from the Ferrari F154 platform, automatically puts it in some highly esteemed company. After all, other variations of the F154 are used in the likes of cars such as the Maserati Quattroporte, Ferrari F8 Tributo and even the hybridized Ferrari SF90. While the F154 takes on a V8 configuration, the Alfa Romeo variant (known as the 690T) is a 2.9L twin-turbocharged V6 which produces 540 hp. Capable of 0-60 mph in 3.6 seconds, the 690T isn't exactly blistering by today's standards, but it does become an integral part of the car's overall philosophy of balance and agility; this was probably one of the main reasons Alfa Romeo chose to go with a smaller unit rather than going the copy/paste route with the Ferrari setup.
The GTA / GTAm are about as track-ready as any production car can get when also factoring in its insanely aggressive aerodynamic and chassis upgrades.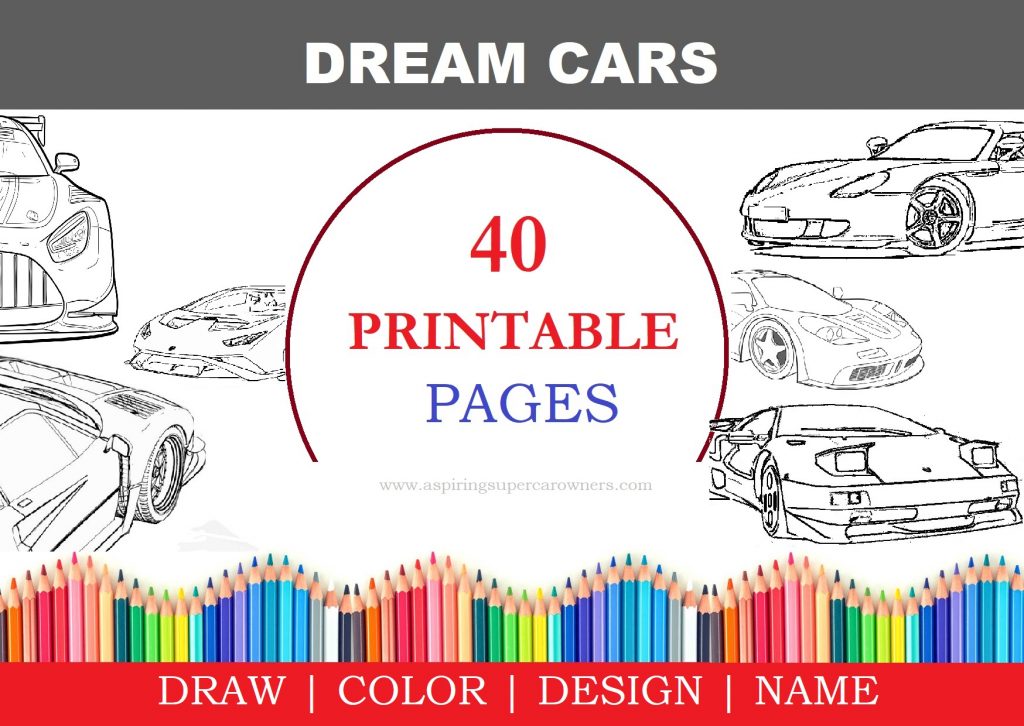 "As far as four bangers go, these are the best" – Best 4-Cylinder Engines Ever Produced
There are a variety of reasons manufacturers choose to fit a 4-cylinder engine in their cars. They're compact, lightweight and typically more fuel-efficient compared to all other mainstream alternatives. This makes them ideal for smaller cars – particularly those with economy being top of mind – but can serve just as well in heavier cars (which are often AWD) with a turbocharger providing some assistance.
For the Japanese automakers, the proliferation of 4-cylinder engines was born mostly out of necessity; stricter emissions standards as well as restrictions on engine and vehicle sizes for their domestic market, forced them to think smaller. This would in no way become a hindrance on engineering ingenuity – quite the opposite actually – as many of these companies would become the world's artisans for the sport compact car. This unwavering dedication to mastering one's craft has produced the likes of the F and K Series engines from Honda, and the 4G63T and EJ25 from Mitsubishi and Subaru respectively; both of whom would go on to become one another's legendary rival.
However, the Japanese weren't the only ones who were both industrious and creative when it came to the art of the four banger. With the ever-growing popularity of fuel-sipping and smaller vehicles world wide, the Europeans also began to fashion their own interpretation of the ideal compact-efficient package. The Scandinavians for one, have been unapologetic about their extreme commitment to eco-friendliness for many decades now, with the likes of Swedish automakers Saab and Volvo leading the charge in their continent.
The Americans, through Ford, would eventually bring their aptly-named EcoBoost engines to the market, while Italian outfit Fiat (owned by Chrysler) produces power units that are small in scale, but never lacking in character nor performance.
Honda F20C/F22C
When the Honda S2000 first made its appearance in 1999, its naturally-aspirated F20C engine stole the spotlight. It was revolutionary for its time, and in many respects maintains that reputation to this day. A 9,000 rpm redline and being able to produce 120 hp/liter would be the main attractions at first, but the F series engine has also proven to be dependable and well regarded to this day.
It's a huge reason the S2000 is one of the most sought after cars on the used market today, often fetching astronomical prices not too far off the original MSRP (or sometimes more). Halfway through the car's lifecycle, the engine would see its displacement increase to 2.2L (with an 8,200 rpm redline) while power figures remained virtually unchanged; acceleration and low-end response were slightly improved as a result.
Volvo Redblock B230FT

Volvos – particularly some of the older platforms and their engines – have been the subject of a growing following over the years, as performance enthusiasts and grassroots circuit drivers alike have discovered the now hard-to-keep-secret that is the Redblock B230FT engine. Built on a decidedly Scandinavian philosophy of minimalism and straight-forwardness, the Redblock engines have a reputation above all else, for being extremely bulletproof. This is the reason you see more of those old-school Volvo wagons and sedans (amicably referred to as "Turbo Bricks") on the road today than maybe you should.
However, what is becoming increasingly significant about these cars is the value their engines bring to the larger automotive community. Because of their inherent indestructible qualities, the B230FT is becoming a popular choice for reliable high-horsepower builds, and even engine swaps into cars with native power plants that are otherwise less dependable.
Ford EcoBoost
Ford's EcoBoost engines are amongst the most recent and significant line of 4-cylinder engines being produced by any manufacturer today. While there is certainly a monumental shift towards electrification – of which Ford is very much a part of – the petrol-powered engine remains relevant and continues to be improved amidst stricter emissions standards. Besides going full-on EV or hybrid, there is no other drivetrain unit that is more fuel efficient than a modern day turbocharged 4-cylinder engine.
They're also capable of extraordinary performance, with the 2.3L EcoBoost unit in the Ford Focus RS good for around 350 hp. Recognizing the all-around benefits of the EcoBoost, Ford has used the powerplant throughout its entire lineup; you can find one in a Ford Mustang, a Ford Ranger, and even a Ford Bronco. Though it's true that the internal combustion engine will be phased out sooner than later, the EcoBoost will be about as good as it gets before the transition is complete.
Toyota 3S-GTE

It can be argued that the Toyota 3S-GTE does not get all the plaudits it deserves, because it shared the stage with the A80 Supra (and its 2JZ engine) which would ultimately end up stealing the show. But the 3S-GTE has a lot of things going for it, not least of them being that it was used to power two of the most legendary Japanese sports cars – the Toyota MR2 and Toyota Celica GT-Four.
Typical of the brand and the era, the 3S-GTE was basically bulletproof thanks to its cast iron block and forged aluminum internals. When properly cared for, the engine has a shelf life of around 180,000 miles, which is pretty impressive coming from a 2.0L turbocharged inline-4 which produced 252 hp, and was built in the mid 90s.
Honda K Series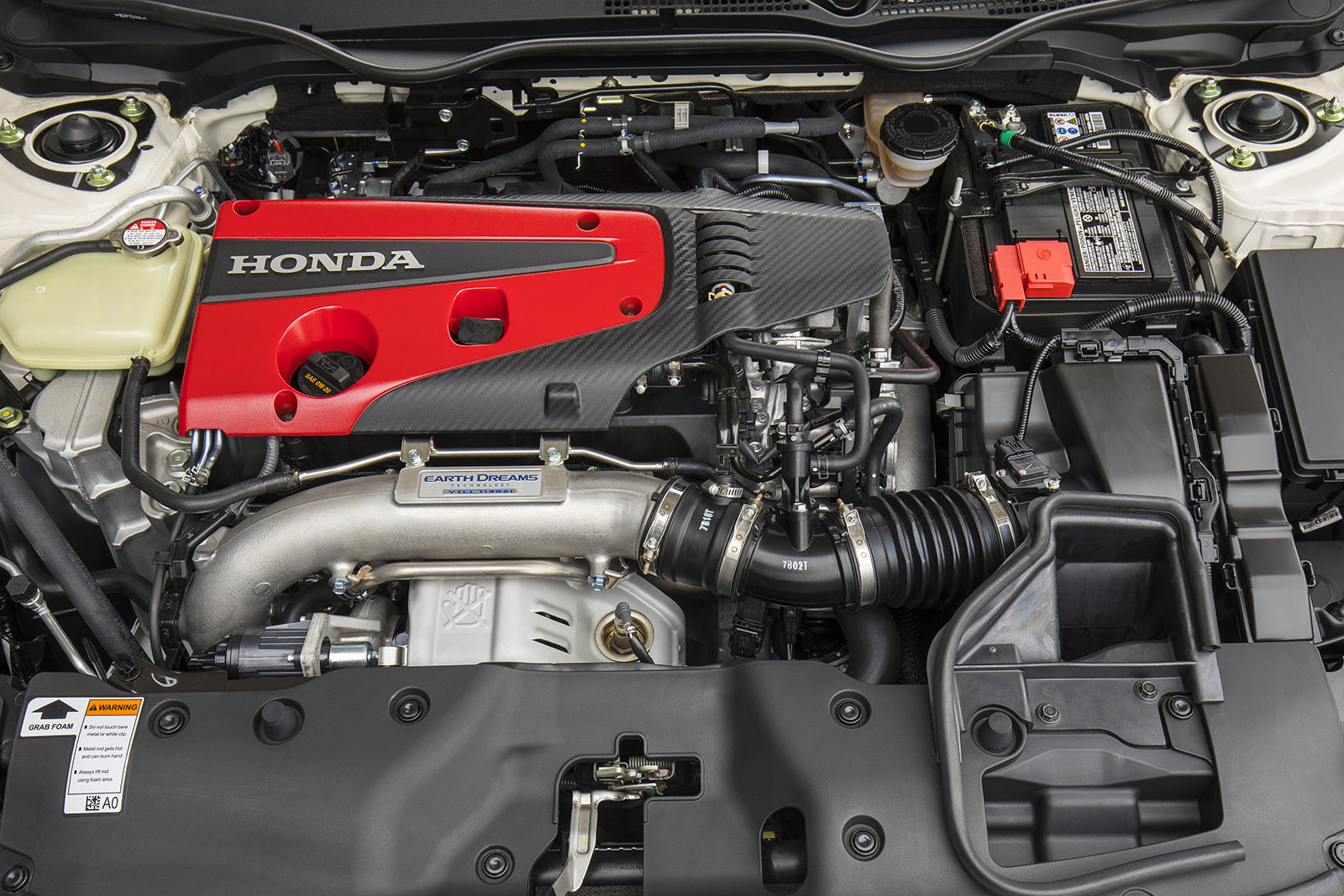 >
The K Series would ultimately replace the outgoing B Series engines (which would be in the honorable mention section, if there was one) for a number of Honda vehicles, most notable of which included the likes of the Civic Type R and Integra Type R.  The most recent and advanced version of the K series engine has found its way into the current Civic Type R, with the turbocharged K20C1 supplying the company's popular sports saloon with 316 hp and 295 lb-ft of torque.
Such is the K20C1's reputation that Honda Performance Development has recently begun to offer crate engines for use in racing and off-highway applications. Other notable K Series engines include the K20A2 (Integra Type R, RSX Type S) and the K24A2 (Acura TSX). Honda reliability, fantastic performance – I don't doubt that we'll be talking about the K Series engines for many more years to come.
Mitsubishi 4G63T

Tracing its roots as far back as the early 1980s, the 2.0L 4G63 engines have truly withstood the test of time. The first turbocharged version of the engine, known as the 4G63T, was first seen in the 1998 Mitsubishi Galant VR-4. This engine would go on to become the heartbeat of the Mitsubishi Lancer Evolution line of cars from 1992 to 2007, which would go on to dominate the World Rally Championships. Suffice to say, the 4G63T, through the Lan Evo, would go on to define the brand for the greater part of two decades and also become the company's most sought after sports car in both road-going and race-only configurations. Top 50 car engines ever developed.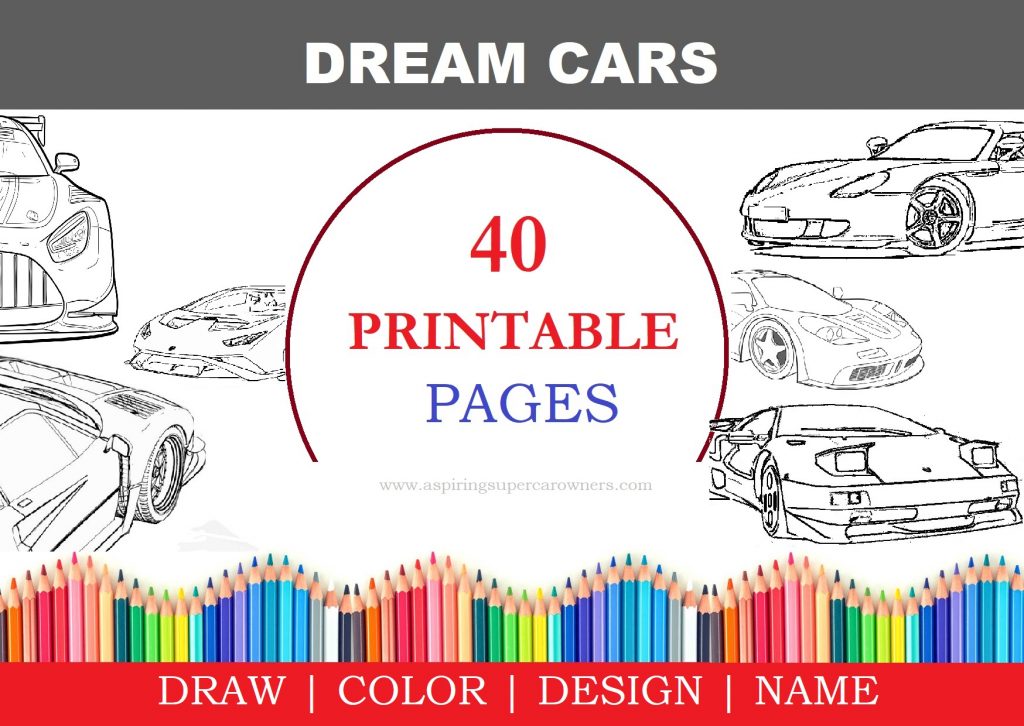 Today, the platform remains popular in grassroots rally racing and circuit racing and also for drag racing builds, due to the incredible amount of power it can make with the proper work.
Volkswagen EA888

While Volkswagen's EA888 engine is another on this list that wouldn't have made it if reliability was the key metric, there is no question about the powerplant's performance potential and impressive fuel economy. Today, it most notably appears in the Volkswagen Golf R and Audi S3 where it produces a smidge less than 300 hp. Top 50 car engines ever developed.. This, along with being very light weight, makes it an ideal match for a modern hot-hatch and compact sedan, but owners can also benefit from relatively lower costs at the pump (provided that it's not being hooned all the time).
The EA888 engines are extremely popular amongst the tuning community, as a simple build using mostly bolt-ons can easily yield a reliable 500+ hp. Suffice to say, the EA888 is also a solid platform upon which VAG can build more powerful and advanced versions in the future, which I'm sure we'll be seeing in newer generations of the aforementioned cars and more.
Subaru EJ20

Ok. So while the EJ20 probably won't go on to pip any of the other engines on this list for the "most reliable" awards, it remains a prolific engine that has powered an iconic car for the greater parts of each of the past 3 decades. The car specifically, is the WRX STi, which is one half of an epic rivalry between Japanese (and rally car) giants Subaru and Mitsubishi. Despite the well documented issues with head gasket failures and the like over the years, the EJ20 has still proven itself through the test of time, with the latest iteration of the engine being used as recently as 2019, coinciding with release of the Subaru WRX STi Final Edition. Top 50 car engines ever developed.
The EJ20 has never been short on character, with its Boxer configuration and the use of unequal-length headers giving the car its distinctive "burble" – a sound which has become synonymous with the car and instantly recognizable to any moderately trained ear.
Saab B234R

These days, you'd be hard-pressed to find many people who remember Saab as a brand, nor as one of the pioneers of bringing turbochargers to the mainstream. But, they were most certainly both of those things, with the company's heyday taking place during the late 1980s and early 1990s. Saab's B234R engine was the golden boy of this era; forged internals and an iron block were the backbone of an extremely reliable platform. Top 50 car engines ever developed.
In its complete packaging, the turbocharged engine – via a 5-speed manual Saab 9000 Aero – produced 225 hp and a whopping 300 ft-lb of torque. This helped propel the otherwise unassuming euro sedan from 0-60 mph in just 6.7 seconds. Undoubtedly quick for its day and capable of so much more. It's no wonder the car has a niche (but passionate) following to this day.
Fiat MultiAir Turbo

In my opinion, Fiat has become the de facto micro car producer; at least in North America, where there are far fewer options than in Europe and Asia. Without a doubt, this is in large part owed to fact that Fiat is owned by American automotive conglomerate Chrysler, who leveraged their position to become the dominant force in this market segment. While subcompact cars have yet to really take off west of the Atlantic, Fiat have proven that while micro cars need to be powered by micro engines, their performance can be anything but. Top 50 car engines ever developed.
The pinnacle of this is displayed through their 1.3L and 1.4L MultiAir Turbo engines, which have gone on to win numerous awards. Currently, these engines power the Fiat 500X and 500L models, and produce 177 hp and 160 hp respectively, alongside the company's best-ever fuel consumption and emissions figures.
For more details, check our similar articles on the below.
car engine
car engine parts
electric car engine
smart car engine
car engine light
car engine won't start
how to clean car engine
car engine diagram
how does a car engine work
The post 50 Best Engines of All Time appeared first on Supercars.net.
Thanks to the author in sportscars.net for this interesting article.