This article is originally from supercars.net.
The BRABUS B63S 6×6 is a rare limited edition beast. By now most car fans out there have seen the massive Mercedes AMG G63 6×6 at least once or twice, introduced in 2013, Mercedes intended to build only 100 units, but by the time production was stopped, several more than 100 left the factory gates in Graz, Austria in May 2015. Despite an MSRP in those days of about $430,000 it didn't take long before prices reached a cool million on the open market because these sold out quickly, you just couldn't get a new one anymore.
Rare AMG G Wagon
From the factory, the G63 6×6 came with a 5.5-liter, twin-turbo V8 delivering 544 hp to all six wheels, using portal axes for increased ground clearance, and despite being based on a no-nonsense military utility vehicle, the Mercedes G-wagon that was used as a base became a true luxury 'uber' SUV. Adding a pickup bed in the rear, massively wide wheel arch extensions, raised suspension, and a four door cabin, the Mercedes G63 AMG is almost 6 meters (231.3 in) long and stands 2,209 mm (87.0 in) tall … that's a massive 43.5 inches longer than a 'normal' G-Wagon.
The BRABUS B63S 6×6
The Mercedes G63 AMG comes with 5 differentials operated by switches on the dashboard, an AMG SPEEDSHIFT PLUS 7G-tronic 7-speed transmission and it can do 0 to 100 km/h in 7.8 seconds, which is very impressive for such an immensely large car weighing in at 4,105 kg (9,050 lb) … top speed is limited to 161 km/h (100 mph), probably because of the 18 in (457 mm) beadlock wheels and 37 in (940 mm) tires together with the high weight.
SUPPORT US BY VISITING OUR CHANNEL STORE HERE.
This 6×6 monster comes with a built-in compressor to increase or decrease tire pressure on the go, four 20 liter containers are used to allow quick inflation of all six tires, going from the dessert sand onto tarmac takes only 20 seconds this way. There are only 15, factory-built, RHD version of the Mercedes G63 6×6, and all of these were for sale in Malaysia only, with an MSRP of €689,888 in 2015)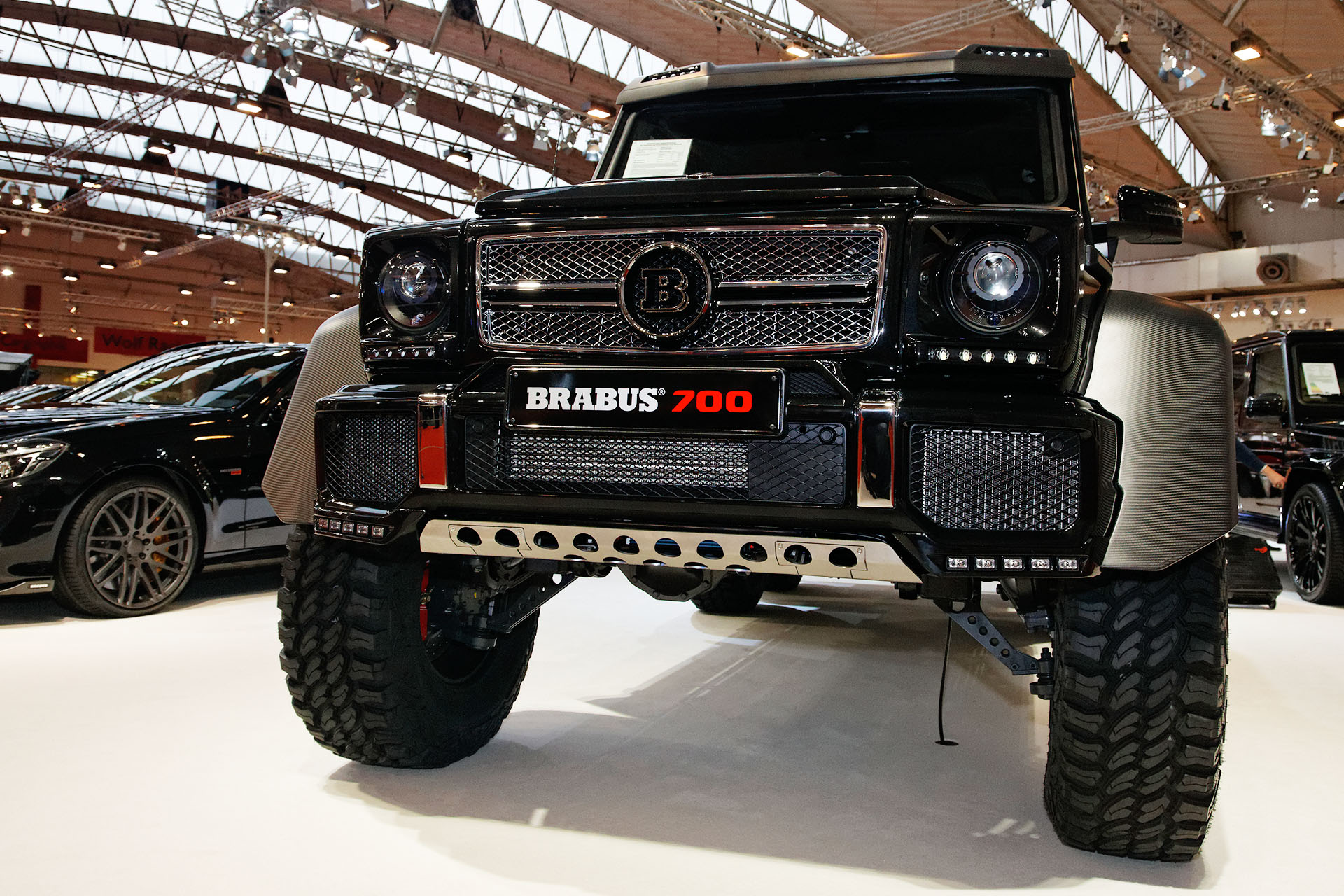 Exclusive and very rare
But that's only the factory original Mercedes G63 AMG 6×6, and for some fortunate owners. The standard is not good enough, so to make this limited edition off-road monster even rarer. Meet the BRABUS B63S – 700 6×6. Introduced at the 2013 IAA in Frankfurt, the 5.5-liter V8 now produces 700 hp. It can reach 100 km/h from standstill in only 7.4 seconds, top speed is still limited to 160 km/h (100 mph) due to the 37-inch off-road tires).
The original turbochargers are replaced by custom BRABUS units with a larger compressor. BRABUS Gold Heat reflection sheeting is used on the intakes, new charge-air pipes lower the temperature. Add high-performance catalysts with 75 mm downpipes for lower back pressure to a stainless-steel exhaust. Also with butterfly valves to control the sound of the twin sidepipes. A custom ECU programming completes the BRABUS engine conversion that still complies with EURO V regulations. Also it comes with a 3-year, 100,000 km warranty from BRABUS.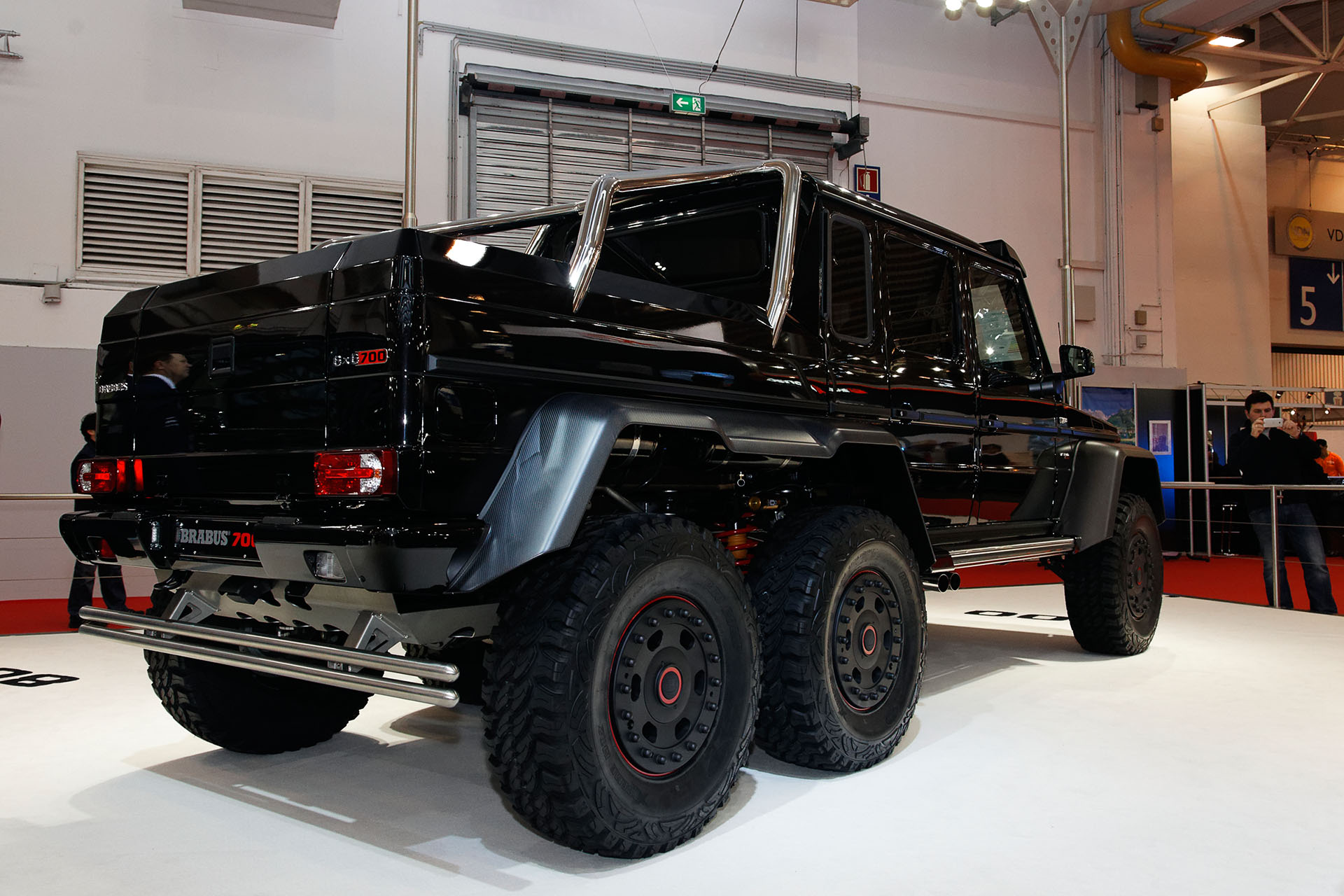 With the 156 hp power increase also comes an important increase in torque, between 2,000 and 4,500 rpm. The BRABUS B63S – 700 6×6 delivers a massive 960 Nm (708 lg-ft) of torque. This compared to the 760 Nm of the standard engine. But while engine tuning, higher performance, and a thundering soundtrack are very nice. The looks are important too.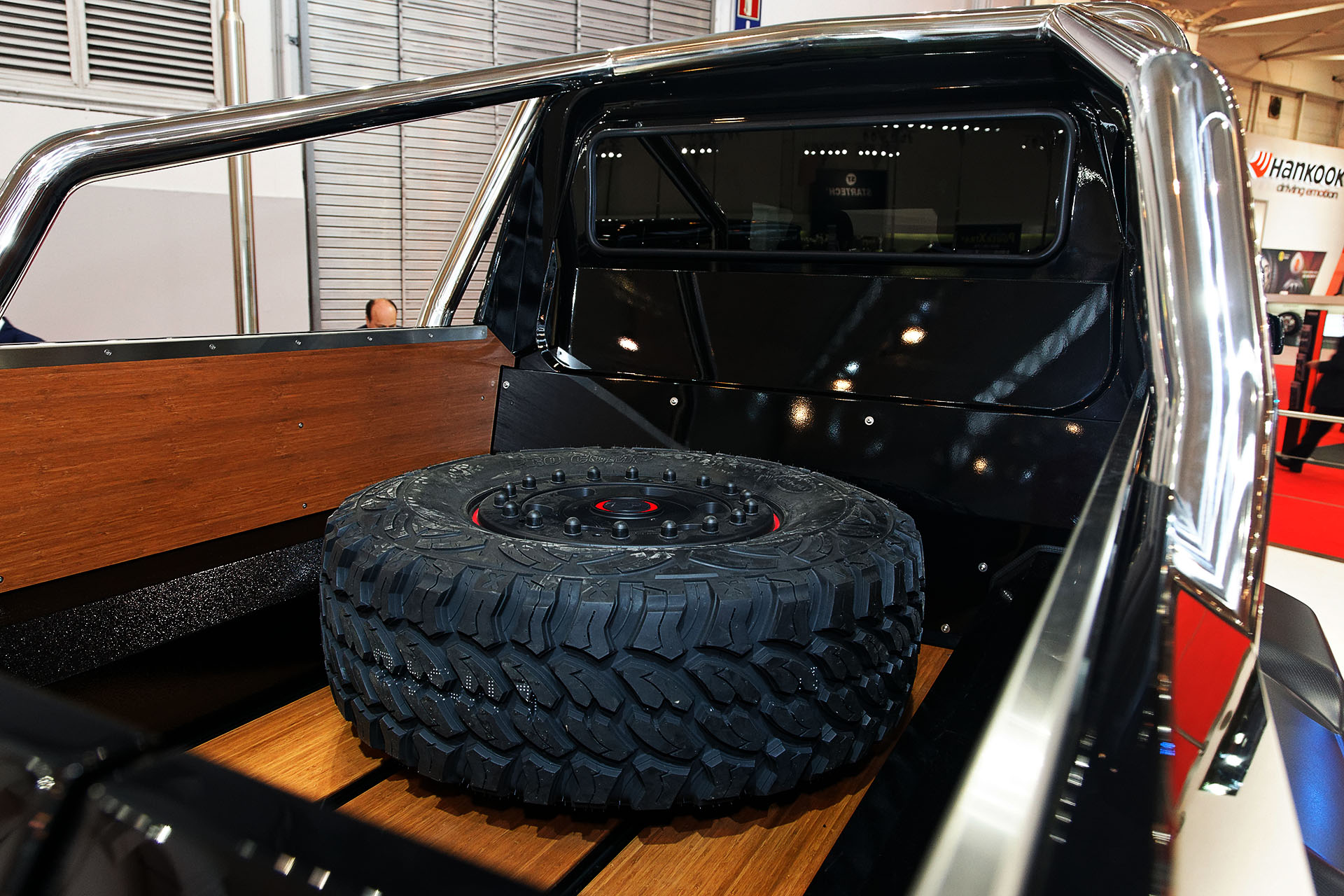 A new BRABUS grille,with the traditional B in the center, gets fitted, custom front spoiler add-ons with integrated LED driving lights. The air vents and intakes on top of the engine cover help to keep the V8 cool. While a polished guard plate is fitted at the bottom of the front bumper. Replacement headlights from BRABUS complete the front transformation, and because they integrate the turn signals. Those large Mercedes units on top of the front fenders could be deleted.
SUPPORT US BY VISITING OUR CHANNEL STORE HERE.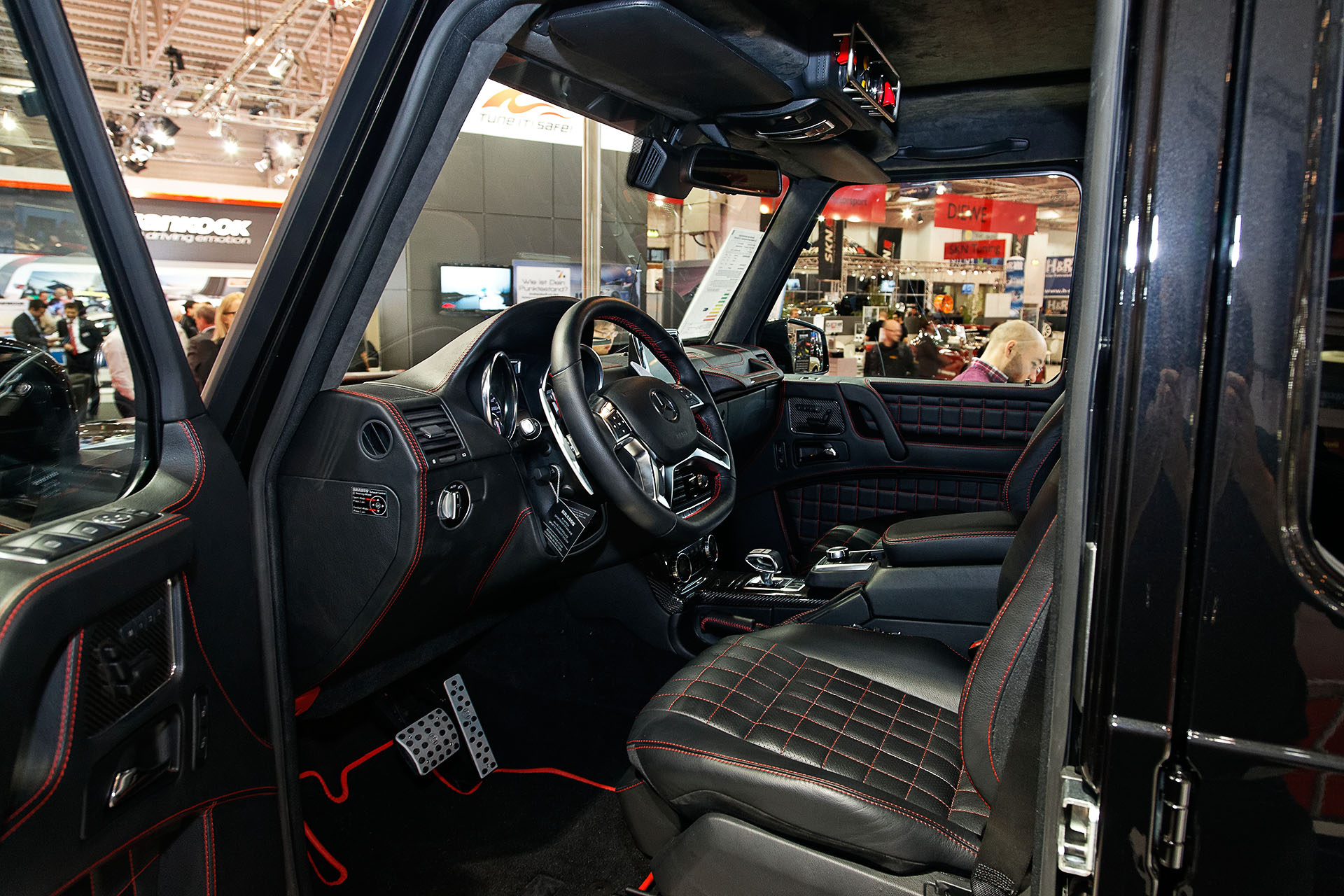 And BRABUS continued on the interior, the factory standard 6×6's interior is very luxurious already. But inside a BRABUS B63S -700 6×6 things are considerably different nonetheless. With even smoother leather, more detailed, stitching on the seats, door panels. The headliner, and the addition of stainless-steel door sills and aluminium pedals.
Click here to checkout our collection of beautiful supercar wallpapers.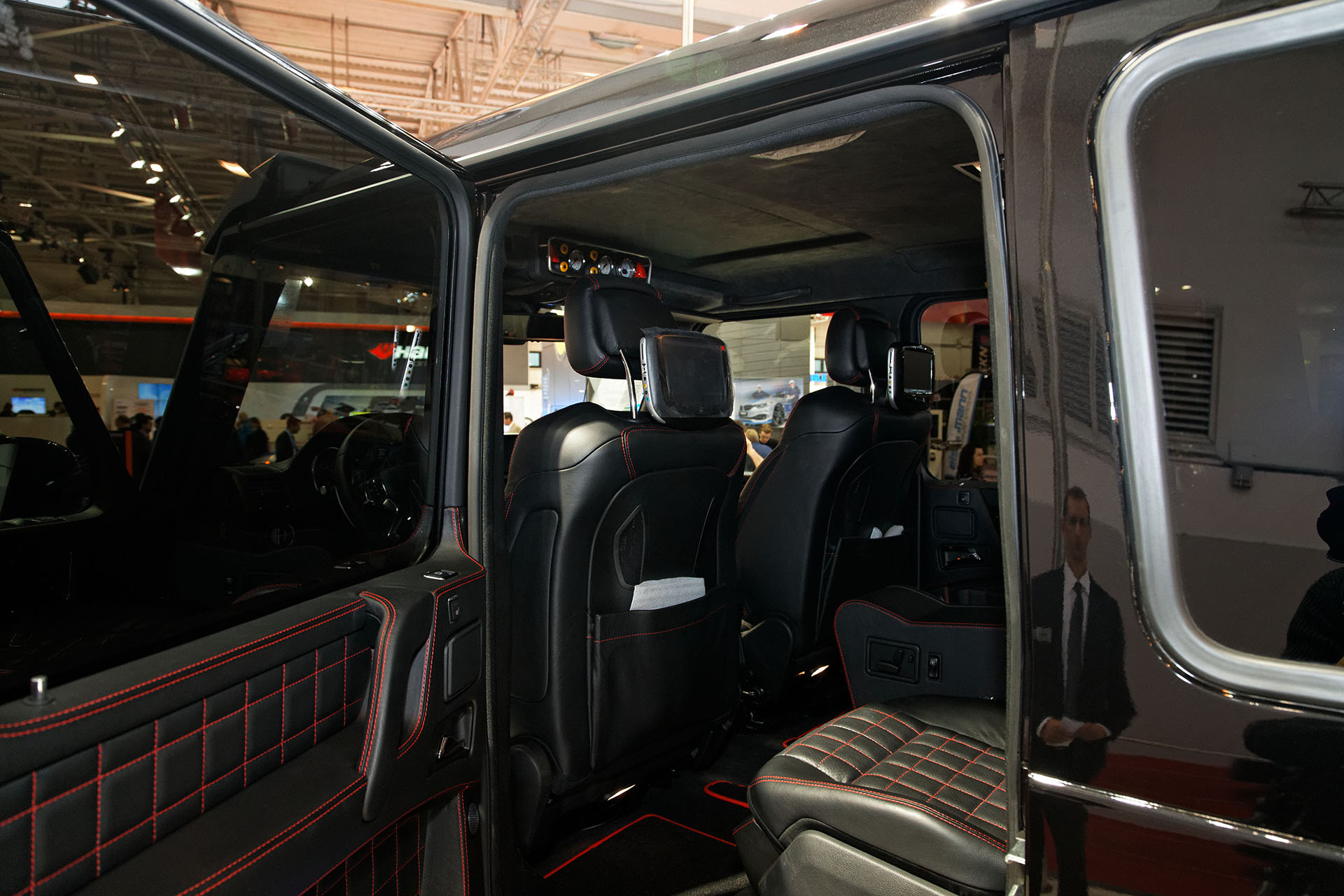 Back in late 2013, a brand new BRABUS B63S – 700 6×6 would set you back $813,000. Today it seems this car kept it's high price, I found two for sale. One at $735,000 and one at $990,000, both in Dubai … where else, right?
This post appeared first on Supercars.net.
Thanks to the author in sportscars.net for this interesting article.