This article is originally from supercars.net.
Bugatti Chiron Sport vs Dassault Rafale. What do you do when you have a car that's called the 'Les Légendes du Ciel', 'The Legends of the sky', in your lineup, and it's in France as we're talking about a special edition of the Bugatti Chiron?
Well, you make it race against a navy jet fighter on an airplane strip, in this case, a Dassault Rafale Mirage and the strip is at Landivisiau, in the north-west region of France, a 1,500 PS car takes on a 5,727 PS (58,550 newtons of trust) airplane, both being the pinnacle of their respective fields and the result of decades of development their segment.
Behind the wheel of the Bugatti Chiron Sport we'll see their 'pilote officiel' Pierre-Henri Raphanel while the Rafale jet will be piloted by frigate captain Etienne, in an event that took weeks of planning to get both amazing machines lined up together on the same day at the same venue, the Bugatti Chiron Sport 'Les Légendes du Ciel' is a limited edition version, only 20 will be made, at €2.880.000 each, while the Dassault Rafale Marine is a €60,000,000 jet fighter.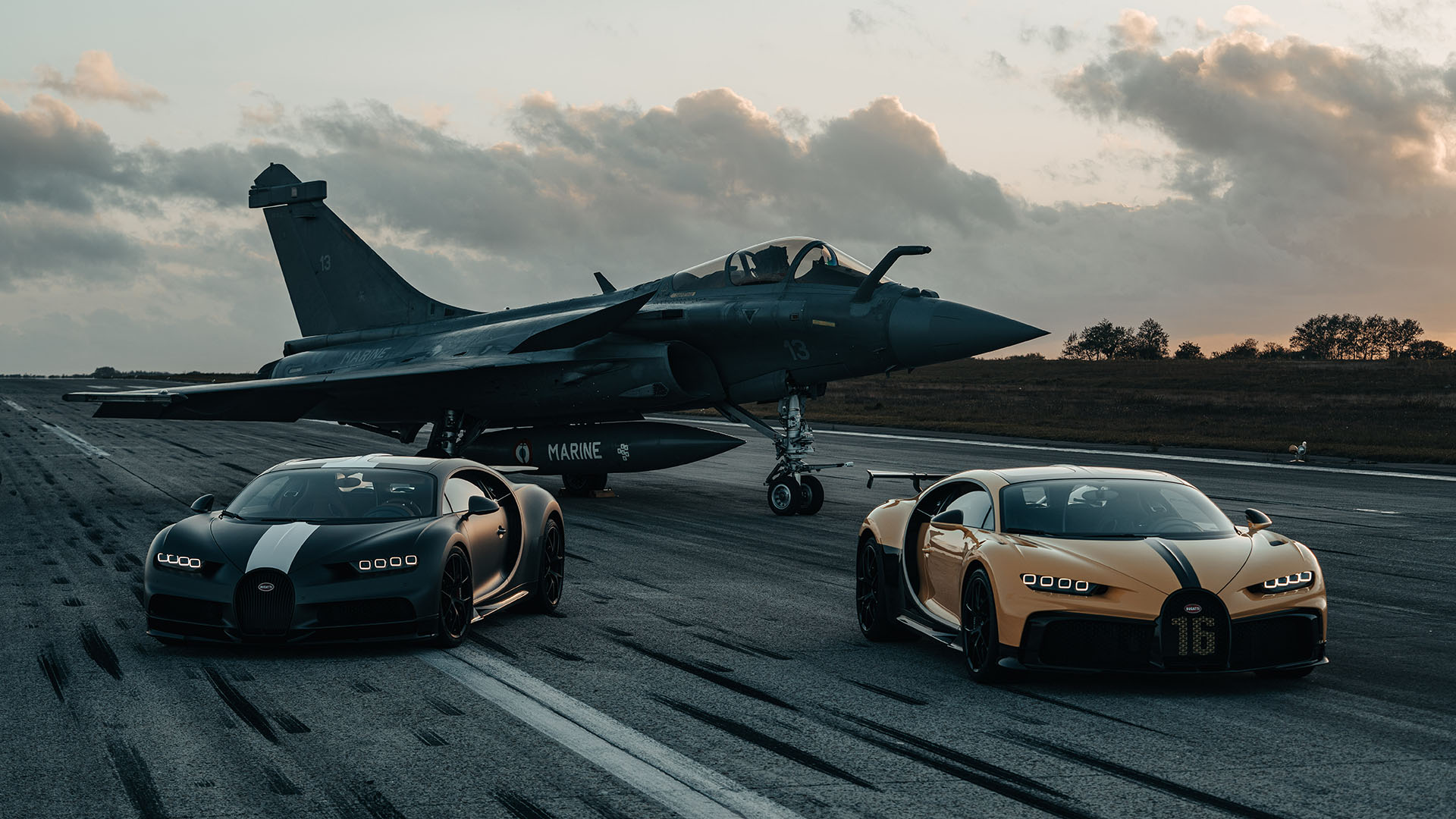 Bugatti has had a link to aviation for over 110 years, their drivers like Albert Divo, Robert Benoist, and Bartolomeo "Meo" Costantini were also pilots in the French Air Force, and in 1915 Ettore Bugatti even developed airplane engines, by 1937 Ettore even built a complete aircraft … and a record-setting one at that too, sadly things came to an end when WWII broke out a few years later.
The Chiron Sport 'Les Légendes du Ciel' forges a link between the past and the present, the 20 limited edition models are finished in a Gris Serpent matte grey shade with the blue, white, and red Tricolor at the front of the side skirts made from black visible carbon fiber. The fins in the front grille are made from laser-cut, deep-drawn aluminum and look like a series of planes in a flyby formation. The brushed aluminum door sill panel with the lettering 'Les Légendes du Ciel' clearly distinguishes this very special commemorative edition.
On the interior of this Chiron, we find Gaucho tinted leather that looks like the natural leather found in airplanes of the past. A contrast with aluminum trims and an aluminum inlay featuring the 'Les Légendes du Ciel' logo works perfectly, while the same logo is also featured on both headrests. The door panels show a stunning sketch of a racing scene between the Nieuport 17 airplane and a Bugatti Type 13 that represents the two historical links commemorated by the limited edition hyper sports car.
Keep in mind this has been done before, by Lamborghini with their limited edition Reventón taking on a Tornado fighter jet, and by Bugatti themselves back in 2007 when the Veyron 16.4 was set against a Eurofighter Typhoon for a similar drag race, but as France stepped out of the Eurofighter program, the French company Dassault developed its own aircraft; one which was uncompromisingly tailored to the requirements of the French army, and that Rafale Marine now goes head to head with the new Chiron.
The encounter between these two masterpieces has been perfectly described in the press release:
"The Bugatti Chiron Sport takes the lead soon after setting off. The hyper sports car accelerates from 0 to 100 km/h in 2.4 seconds and to 200 km/h in 6.1 seconds. It takes 13.1 seconds to hit a speed of 300 km/h and 32.6 seconds to accelerate to 400 km/h, a speed at which pilot, Etienne, and the Rafale Marine look to match to take off.
The aircraft hits 165 km/h after 150 meters and 210 km/h after 250 meters and takes off after 450 meters at around 260 km/h. "I pulled away from the Rafale over the first few hundred meters, but after a few hundred meters more it was around 20 meters above and alongside me in the air. An incredible and fantastic sight," says Pierre-Henri Raphanel later. To be on the safe side, the Bugatti driver initiates his braking maneuver after approximately 1.5 kilometers and over 350 km/h – by which time the Rafale has disappeared into the horizon."
I couldn't have put it any better, and in the end, the comparison of these two ultimate technical models is declared a draw, both in terms of technology and driving/flying behavior, but also emotionally … seeing both pulling away from a standstill is just an amazing sight, which you can experience in the official Bugatti video below:
The post Bugatti Chiron Sport meets Dassault Rafale appeared first on Supercars.net.
Thanks to the author in sportscars.net for this interesting article.